Not everyone likes to bring their work home. But for many at the world's largest brewer, nothing's more fun than spending the weekend concocting a beer of their own making. Ten years ago, the Anheuser-Busch (A-B) Home Brewers Group started meeting to swap recipes, get tips from brewmaster colleagues and even share ingredients with other local enthusiasts. Now three members are ready to spill their biggest successes, major fails and tips for anyone else who's ready to imbibe in the fun of making your own beer.

How did you start homebrewing?
Gene Thompson, Brewing Process Engineer: It all started because of my nephews. One holiday weekend they suggested we try making our own craft beers. They assumed I could do it because I worked in a brewery. I laughed it off, but the next day they handed me a check to get started! So I did some research and then spent five weeks designing my set-up.

Tyler Benson, Boiler Operator: I started out armed only with a thumbed-through copy of John Palmer's "How to Brew", a 15-minute crash course instructional video, a pea green electric stove I'd found in the street and a utility sink rigged up in my basement. I brewed for the first time on St. Patrick's Day in 2014 – an Irish stout, of course.

Robb Jeffrey, Brewery Experiences Training Specialist: I'd been working in beer since college and after joining A-B, I started learning more about the brewing process and ingredients, and wanted to take my knowledge to the next level. Brewing at home makes me appreciate the art and science that goes into making beer on a large scale. I'm now a Certified Cicerone® and lead the A-B Home Brewers Group.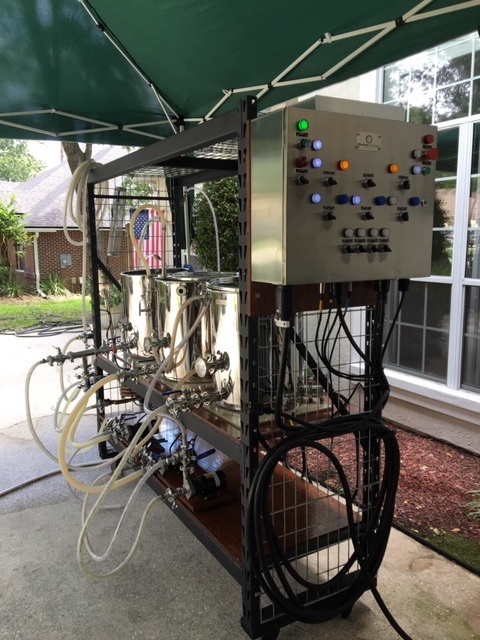 Gene's set up at home

What's the best brew you ever made?
Tyler: Right now I'm most proud of my English bitter called Union Jacked. It was named 'best in show' at our group's annual competition and is one of the first recipes I wrote. It shows how a recipe doesn't need to be complicated to be great.

Gene: My Maple Vanilla Milkshake Stout won second place last year in our group's annual competition. It's made with four different malts - two-row, Munich, caramel, and chocolate - milk sugar (lactose), maple syrup, and Tahitian and Madagascar vanilla beans.

Robb: I've gotten a lot of praise for my Smoked Porter, made with apple-juice soaked barley that I smoked myself. Most tasters comment that it has great flavor without being too smoky.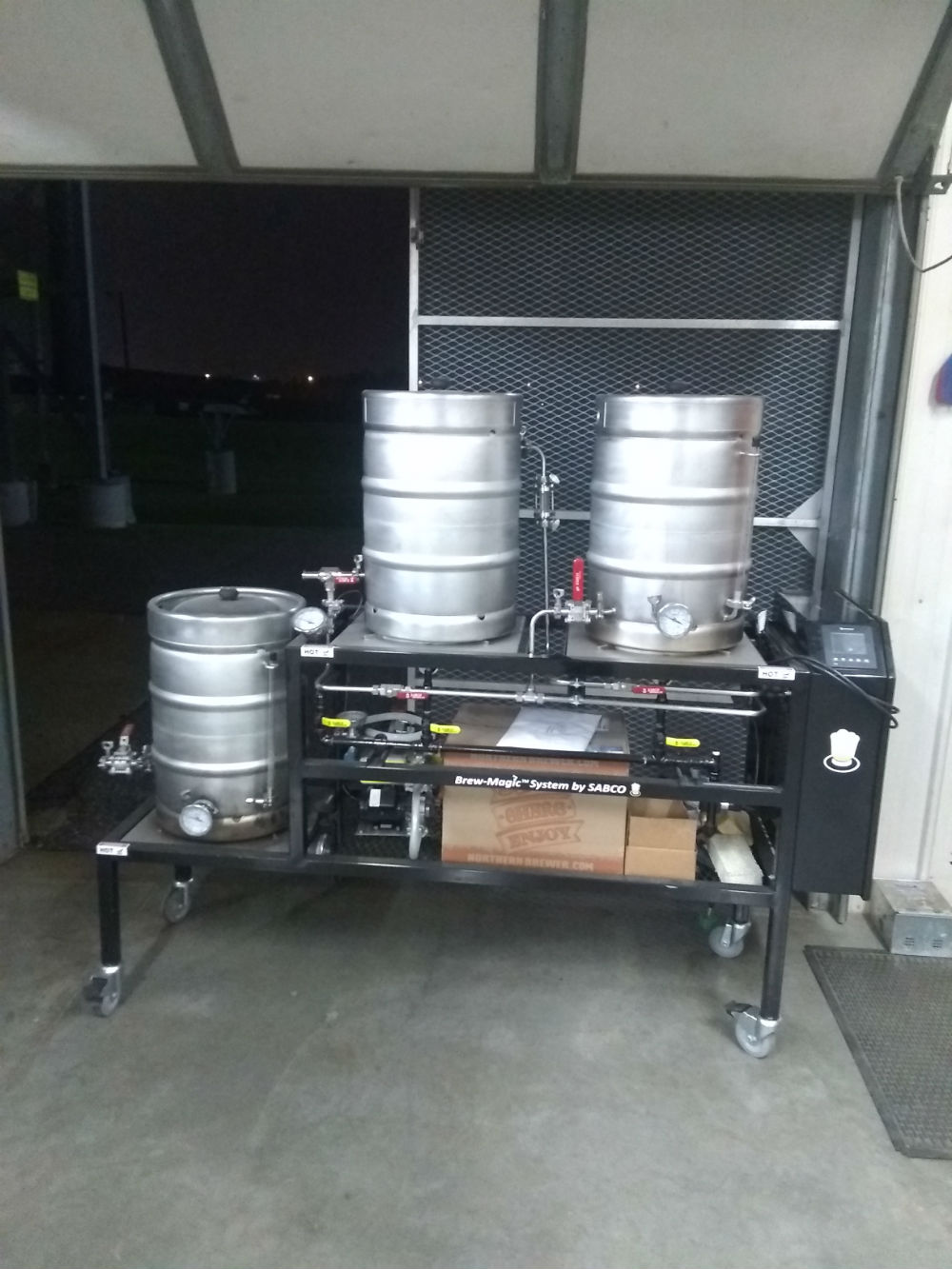 Tyler's set up at home

What's one of your biggest brewing fails?
Robb: I brewed a Honey Wheat Ale that fermented way too much. The bottle flowed like a fountain when you opened it. It tasted good, but not much was left in the bottle after the explosion!

Tyler: My first original recipe was a disaster. I'd envisioned a vibrant red ale with honey and I'd read you could add chopped beets after primary fermentation to get a beautiful red color and no beet flavor. Lies! I also missed my gravity mark so it was only 10% beer. I'd essentially brewed beet wine. That was a rough five gallons to get through.

Gene: I made a Red Ale last summer where I had accidentally sucked Star-San sanitizer from the blow-off bucket back into the fermenter. I had to dump the entire brew.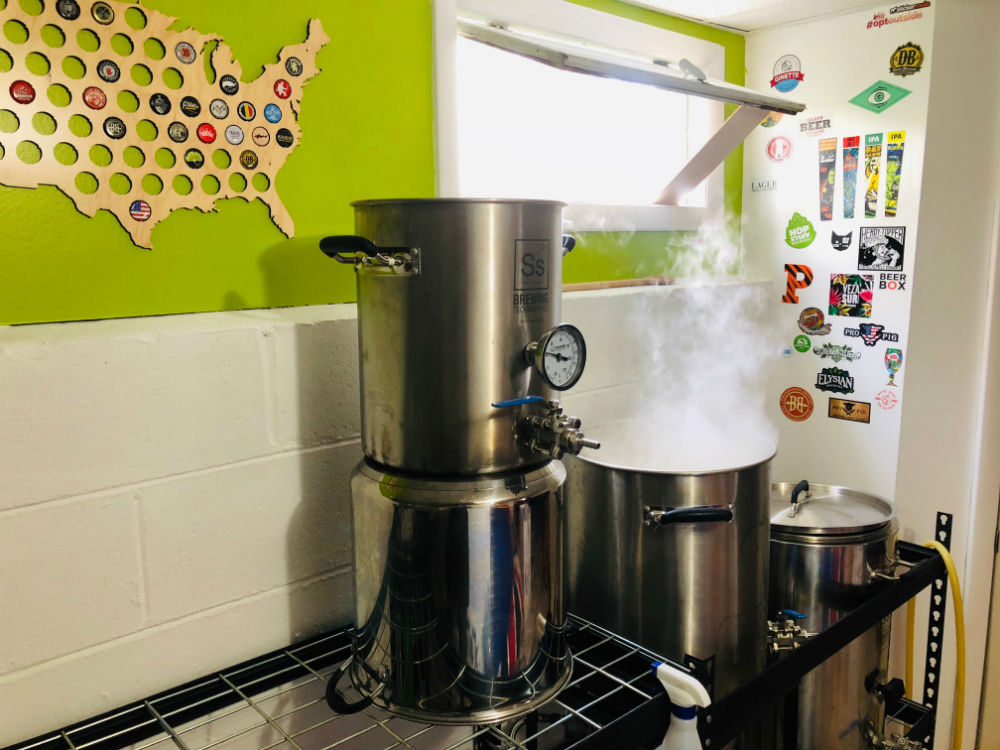 Charles Nouwen's (Head of Passion for Beer) set up at home

What do you look for in a beer?
Gene: It should be in profile, have a great aroma and finish, without lingering. It also should taste fresh - not stale, oxidized or papery.

Tyler: I appreciate something sessionable with a good flavor that I can savor. Above all it needs to be refreshing. I want that "ahhh" moment after my first big pull from the pint.

Robb: There's something to be said for a classic style brewed to perfection, with a clean taste and little or no off-flavors.
What's your advice for people starting out?
Gene: Learn the basic science behind the brewing process – things like mashing temperatures, what yeast does and how to make it happy. And always sanitize, sanitize, sanitize your equipment. There are bacteria just waiting to consume your sugars and impart off-flavors in your beer.

Robb: Start out extract brewing with a medium to higher level kit. You can work your way into all-grain brewing when you're ready and can afford the additional equipment. I also highly recommend the "Beer Smith" app to create and save great recipes that will hit the specs almost every time.

Tyler: It's easy to get excited and spend hundreds of dollars on equipment right away. You can start simple, for about $100. Once you're sure this is for you, upgrade to kegging - it's much more time-efficient. Most important is what Charlie Papazian (author of The Complete Joy of Home Brewing) said: "Relax. Don't worry. Have a homebrew!"
"Homebrewing is a creative outlet – it's half science and half passion, with a bit of experimentation and luck."

Tyler Benson

Anheuser-Busch Boiler Operator