Every four years, the FIFA World CupTM, unites football fans over their shared love of the game. For AB InBev, the world's most watched sporting event is an unequaled moment to connect with consumers, with many of our local brands championing national teams and Budweiser leading our global presence as the official beer of the tournament.
As part of our 'FutureMakers' series - featuring colleagues who are dreaming big and making a positive impact - we caught up with AB InBev Global Experiential Director, Kudzi Mathabire, for the inside story on her career in beer and this history-making global campaign – from an anthemic collaboration with Lil Baby, to hosting the ultimate viewing experiences around the world. Read on for highlights below and listen to the full podcast interview here.
What's it been like to prepare for such a big moment?
This is Budweiser's biggest campaign ever, a truly global campaign that touches more than 70 countries. I'm super lucky that I'm leading the [fan] experience part of it. One part of my role is managing…the ultimate experience right there in Doha, [hosting] almost 2,000 guests at our Budweiser Hotel. But we also recognize that not everybody [can] go to Qatar. We also wanted to create the best place to watch the games right there in [fans'] home countries…[so] we partnered to bring the FIFA Fan Festivals TM to our consumers all around the world.
Budweiser's flagship FIFA Fan Festival in Dubai is open throughout the tournament. Satellite events offer supporters the ultimate watch experience in cities including Seoul, Rio de Janeiro and London (above).
Tell us more about the FIFA Fan Festivals…
With our beers at the center of the experience, [fans] can really experience the World Cup in a way that they haven't done before. Together with FIFA, we have taken the Fan Festivals global. We have so many with Budweiser, and in other markets we are leading with local brands, for example in Brazil the events are sponsored by Brahma, our national beer in support of the national team. We are creating the ultimate watch experience right there on Copacabana Beach. Thirty-thousand people with Brahma at the center…it's [the] best place to watch the game. That's the joy of working on this: our brands bring both soccer and fun experiences to people.
How do you see our sponsorship of the World Cup contributing to our company purpose of dreaming big 'to create a future with more cheers'?
I think our sponsorship...is the epitome of creating more cheers. Through the [Budweiser] campaign we really get an opportunity to bring people together and solidify our longstanding involvement in football. [It's] an opportunity to continue the legacy.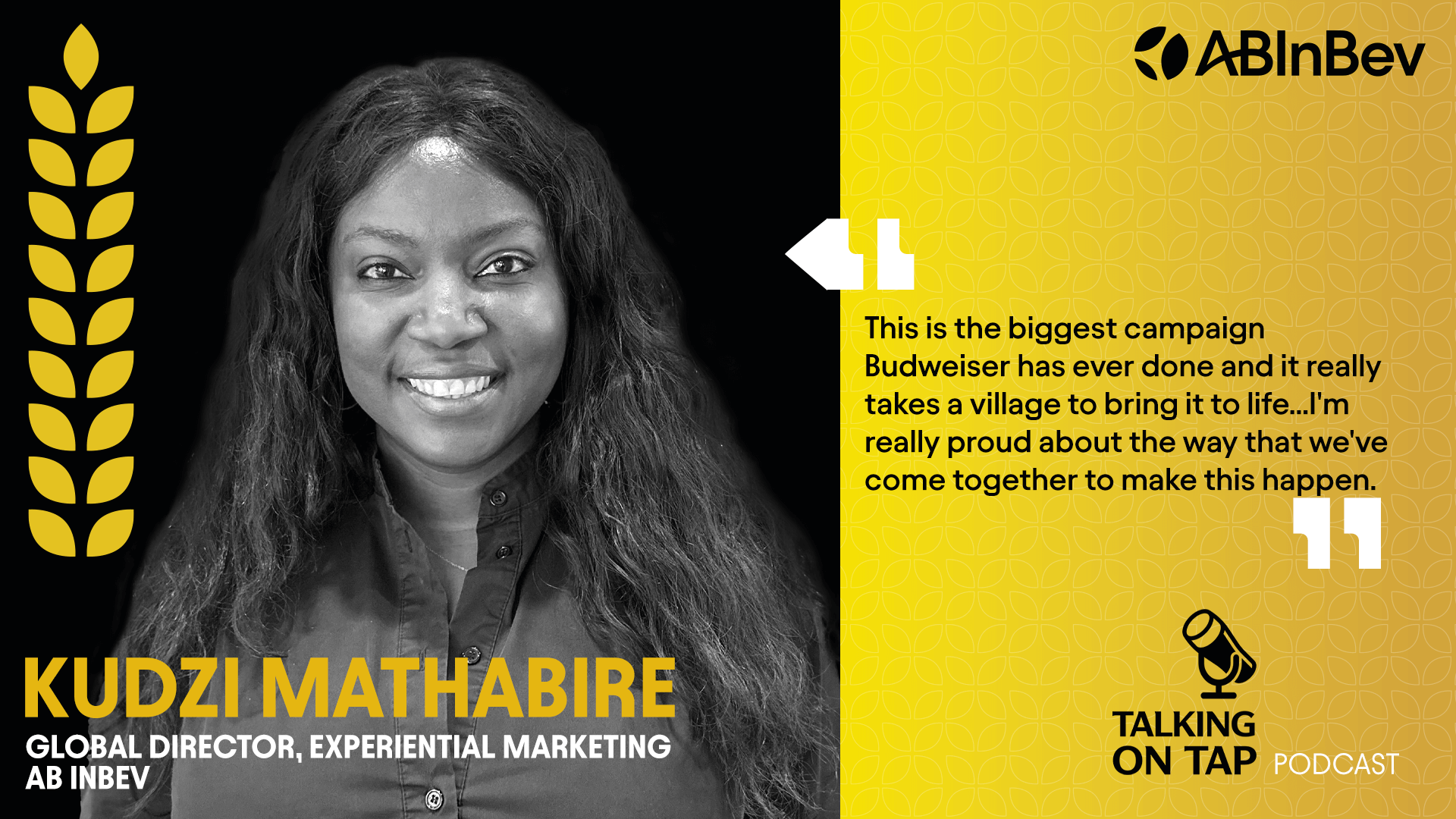 Listen to the full 'Talking on Tap' podcast interview with Kudzi.