At AB InBev we are powered by great people. Our 'FutureMakers' series tells the stories of colleagues who are always looking forward and dreaming bigger to make a meaningful impact on the world. Today, meet François Lizotte, Project Manager – Pricing at Labatt Breweries in Canada, and chair of the company's PRISM 2SLGBTQI+ employee resource group (ERG).
Can you share a bit about your role as the chair of PRISM?
PRISM was created to encourage everyone at Labatt to live their life as their authentic self. As the chair, I'm always finding ways to bring our 2SLGBTQI+ community together by empowering everyone to be their true selves at work regardless of their sexual orientation, gender identity and gender expression.
Just as important is advising on opportunities for further improving education and dialogue for all colleagues regardless of their role, function and location. As a gay French Canadian, I know my personal experiences as a person from minority groups can help our organization continue to create a future with more cheers.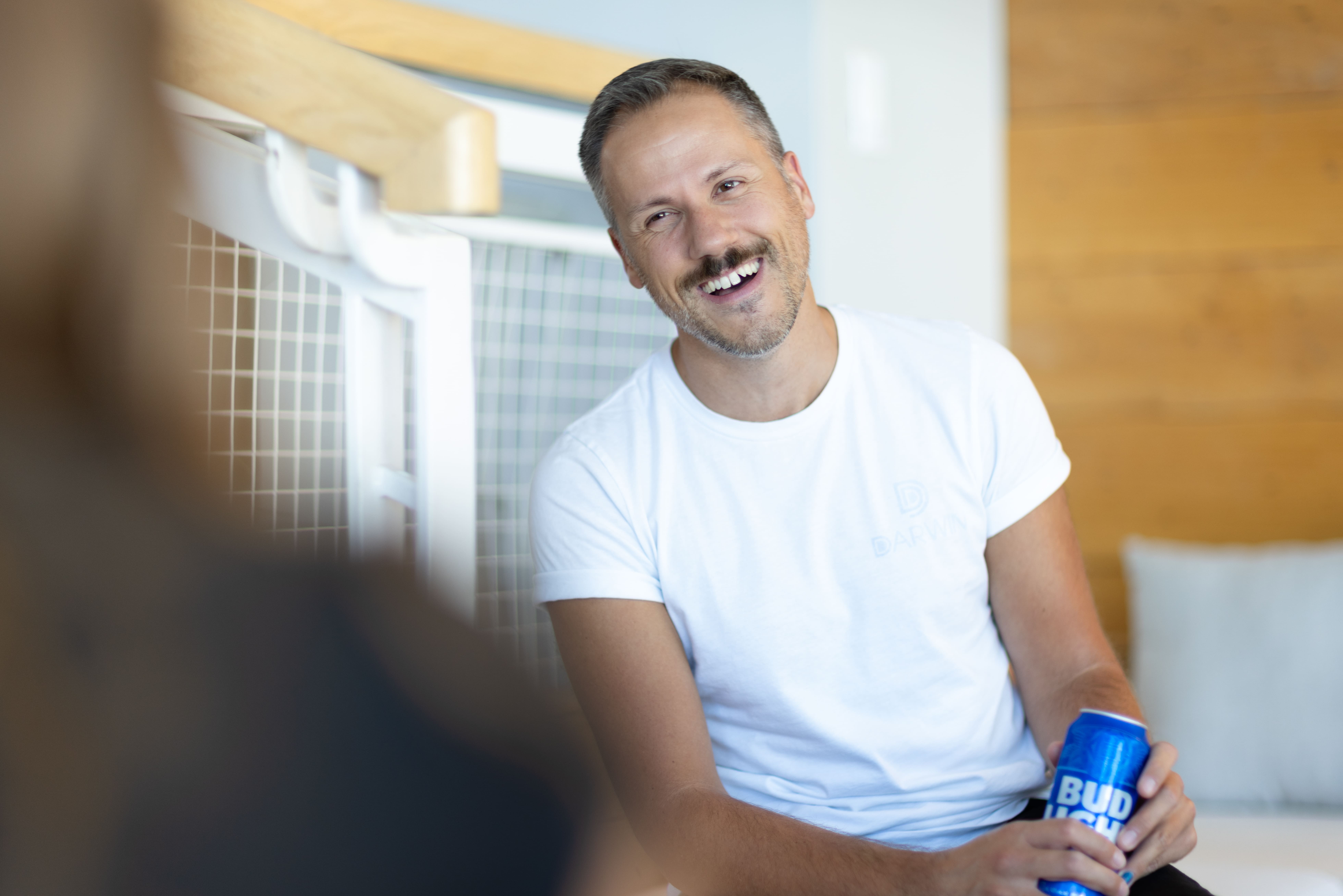 "I think it's fair to say I love engaging with people around a cold beer, especially when it's with a brand like Bud Light and a brewer that's been supporting the 2SLGBTQI+ community in Canada for almost 30 years," said François. [Photo credit: Jesse Blight]
Labatt is considered one of Canada's best employers, particularly when it comes to diversity, equity and inclusion. Was there a pivotal moment where you saw that commitment in action?
In PRISM's first year, we invited all colleagues to march in the Toronto Pride Parade. To our surprise we maxed out our attendance capacity very quickly since so many wanted to be part of the moment. People from all functions and roles came with their family, chosen family and friends to show their support to the 2SLGBTQI+ people. It made me so happy and proud to see this simple invitation getting all that interest. And best of all is seeing how that's been sustained ever since.
What do you think organizations need to do to foster a truly inclusive environment?
Inclusivity needs diversity and diversity needs inclusivity. I believe you can only have one if you also foster the other. In that sense, bringing diverse people from different walks of life together to share their own experiences at work and beyond can expand one's perspective and understanding of certain aspects of life. And the same can be said on how having an inclusive mindset can drive diversity.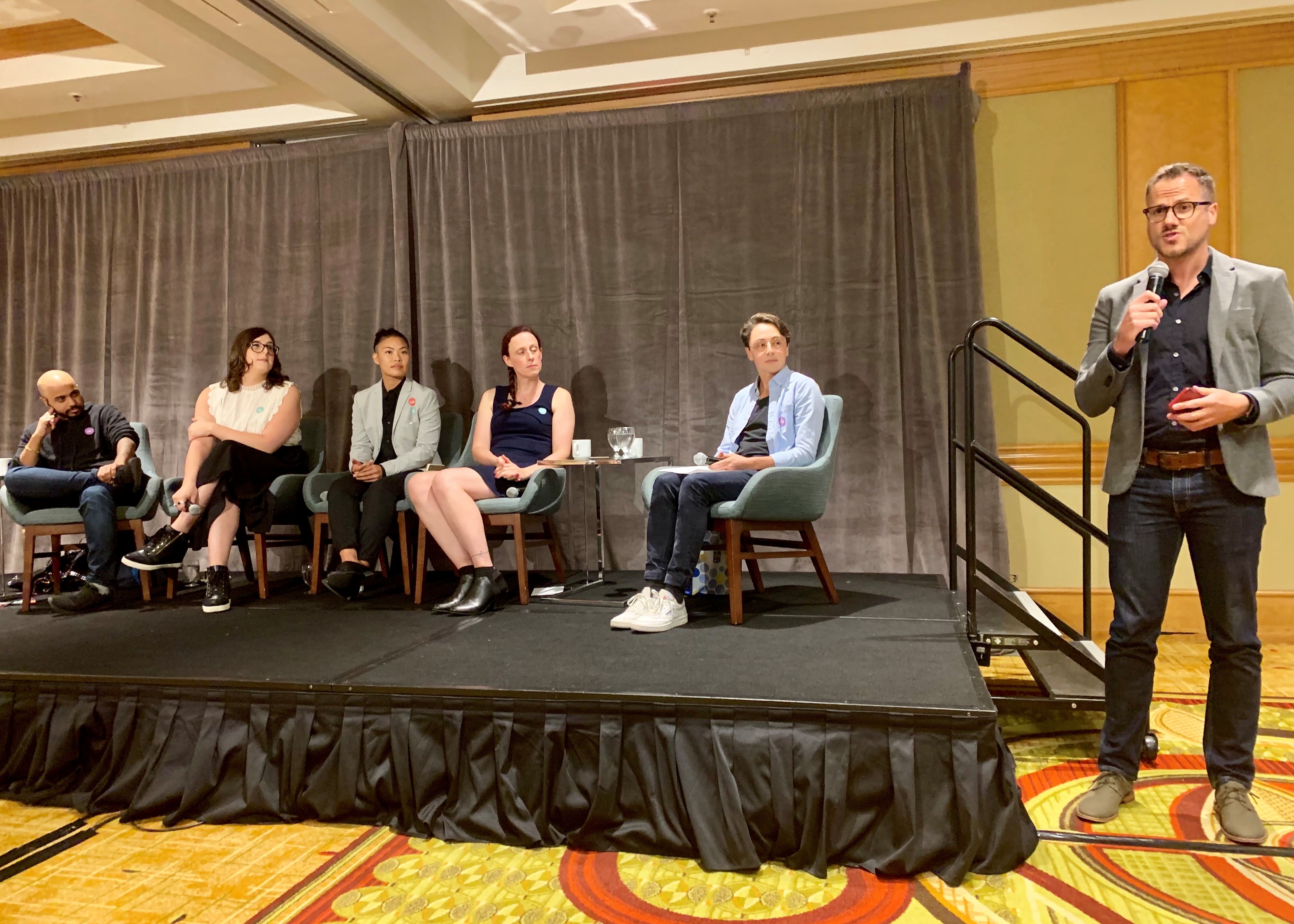 François (right) speaking at a 'Start Proud' panel discussion on the challenges faced by trans people in the workplace. [Photo credit: Alexandra Quigley]
What's your advice for people who want to be more inclusive?
E-D-U-C-A-T-I-O-N! Every day we hear or read about something that we might not know what it means. We must further our collective knowledge by educating ourselves. Let's call it the "PRISM Challenge: Learn. Think. Share." I encourage everyone to challenge themselves to learn about a topic they wouldn't normally research. Think of what you learned and its importance for the 2SLGBTQI+ community. Reach out to your colleagues, friends and family and have a conversation about it.
What's next for PRISM?
At Labatt, PRISM wants to encourage dialogue with more functions in more locations. We hope that by engaging with more people, we can help create a more welcoming workplace for everyone.
Canada may be our main focus as an ERG, but that doesn't mean we can't invite everyone to the party. Over the last few years, we've built out extensive materials for AB InBev employees globally where we share news stories about and for the 2SLGBTQI+ community, collected recordings of past events and curated lists of entertaining and educational books, movies, documentaries and podcasts. While the PRISM journey in Canada is not necessarily the same as in Belgium or South Africa, we believe in making our content and resources as available as possible to everyone in our global organization.

"It was exciting to be able to celebrate at Pride Toronto with my chosen family after two years of cancelled events due to the COVID-19 pandemic." [Photo credit: François Lizotte]
At AB InBev, our purpose is to 'dream big to create a future with more cheers'. What is your big dream when it comes to diversity, equity and inclusion?
How much time do you have?! There's so much I dream about! But I do dream that as a gay man I can travel the world with who I want without having to fear for my own safety. We are fortunate in Canada that sexual orientation, gender identity and gender expression are not a reason for prosecution, but it isn't the same everywhere. While same-sex relationships were decriminalized in Canada more than 50 years ago, it's still a crime in 69 countries. I also would love for all our colleagues, wherever they are in the world, to feel comfortable and empowered to be themselves and achieve their full potential.
Any final thoughts?
Sylvia Rivera, a prominent trans rights activist with the Gay Liberation Front in New York that led to the creation of Pride as we know it once said: "We have to be visible. We should not be ashamed of who we are." We know there are many of us queer people out there. The person sitting next to you on the train to work, the colleague you chat with at the coffee machine or even your child, we all deserve to be seen and acknowledged. Everyone should engage with people of the 2SLGBTQI+ community and welcome them in your lives. And based on recent data in Canada, there are, indeed, many of us out there!
Learn more about how Labatt Breweries is building an inclusive, empowered and equitable future in Canada .