As part of our Global Smart Drinking Goals, we've committed to invest at least USD$1 billion by the end of 2025 in dedicated social marketing* programs and campaigns to influence social norms and individual behaviors to reduce harmful use of alcohol.
To create a world where every experience with beer is positive, we need to combine smart thinking and creative ideas. That's why this year we launched an internal competition to discover fresh, innovative ways to address harmful use of alcohol. We challenged our brand teams to create powerful, insight-driven campaigns that would resonate with consumers in their markets.

Equipped with expert training and advice on social marketing theory, our teams added an awareness of local and cultural nuance to the campaign development process. A panel comprised of internal and external judges, including William DeJong, Ph.D., Professor (retired) in the Department of Community Health Sciences at the Boston University School of Public Health and Jeff French, Ph.D., Professor of Social Marketing at Brighton University Business School, selected the winners selected the winners.

Discussing the competition, Professor French noted that: "There's potential for big impact, not just in terms of helping communities, but in terms of adding new knowledge to our understanding about how we can create more positive and healthy drinking environments."

To do that, the rules of the competition called for messaging designed to promote specific consumer behaviors consistent with smart drinking. As Professor DeJong explained, "We wanted to see advertising that would motivate consumers to pace their drinking, to enjoy food before and while they're drinking, to alternate beer with water or another nonalcoholic beverage, to plan ahead to use a designated driver, and so forth. Catchy slogans that tell people to 'drink responsibly' or to 'think when they drink' won't get the job done. "
We're now proud to announce the first of the nine winning campaigns from around the world.

Promotions for Crash Caps
Driving under the influence of alcohol resulted in the loss of 887 lives in Colombia in 2017. Data shows that seven out of ten victims of drunk drivers are their own friends. These are the central issues that one of our global winners, Poker 'Crash Caps', focused on with its #CuidaUnAmigo (#ProtectAFriend) campaign. Each bottle cap carries the image of the front of a car which is crumpled when the beer is opened, giving consumers the visual of a car crash and strong cue to remember to plan for a safe ride; on the inside of each cap is a redeemable taxi code.
"As we all know, consumers are becoming more demanding every day," explains Miguel Merino, Poker's marketing director. "It is not just about communication, it's about taking a step forward - stop talking and start doing. This is our commitment as a brand: tackling this problem that keeps adding victims every year."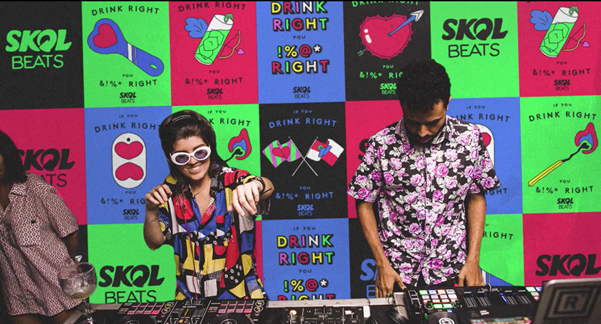 Promotion for the "If You Drink Right, You F*** Right" campaign
In Brazil, the campaign titled "If you Drink Right, You F*** Right – the one who drinks less will have more fun" disrupts the myth that binge-drinking is cool with an argument no one can ignore – harmful use of alcohol gets in the way of good sex. Connected to our Skol Beats brand, the winning campaign is geared to both men and women and is being delivered via social media and in nightclubs across São Paulo. For every Skol Beats bottle sold, consumers receive a free bottle of water to pace their drinking and keep hydrating. Leaflets with actionable information about smart drinking were distributed, along with condoms customized for the campaign.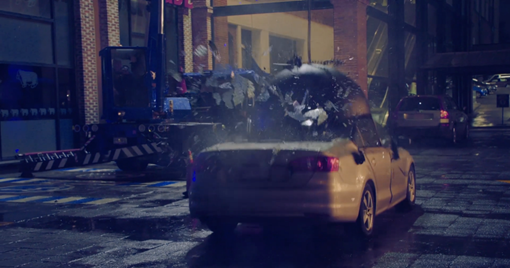 Still from the campaign "The Best Accident"
In Mexico, the Bud Light team created 'The Best Accident', an ad that showcased drunk partygoers' cars getting crushed by a wrecking ball when they refused a taxi and decided to drive home. Running the tagline "We'd rather destroy your car before you destroy your life", the campaign used engaging and visceral imagery to stress its message, urging consumers to #LeaveYourCar if you're going to drink.
THIS IS JUST THE START
Since launching our Global Smart Drinking Goals, we've invested more than $135 million in social marketing programs and campaigns to positively influence social norms around drinking. We recognize that traditional marketing alone is not enough to reduce and prevent the harmful use of alcohol. This goal is not just about spending a specified amount, but rather spending with impact, supporting impactful campaigns and developing greater awareness about what works and why.
We are making important progress by integrating smart drinking into our marketing strategy and developing evidence-based campaigns grounded in social norms and social marketing theory.
"Our commitment with social marketing campaigns is to deliver the most impactful concepts of smart drinking, addressing social issues and changing behaviour to reduce the harmful use of alcohol", says Catalina Garcia, Global Director Corporate Affairs.
Promoting smart drinking is a critical element to building a company to last for the next 100+ years. We believe that our global competition, running annually until 2025, can help achieve this shift.
* Social marketing aims to take ideas from commercial marketing and social sciences to change people's behavior, benefiting the individual and society as a whole.