To understand the Levadura de Ideas, you might start with its name.
Levadura – or yeast - is a nod to the ingredient that brings 'life' to beer by kickstarting fermentation and carbonation. Likewise, this corporate venturing platform is bringing life to disruptive, tech solutions for AB InBev's local brewers and retail partners in Mexico, Central and South America.
Started in 2017, Levadura de Ideas is a Mexico City-based group exploring and scaling projects using artificial intelligence (AI), internet of things (IOT), machine learning, cloud and data analytics, automation, robotics, blockchain and virtual reality. Tech Innovation Director Mamselle Torres says their dream is to transform how people use and engage with technology, and adopt innovation as a mindset.

"Levadura de Ideas is constantly pushing boundaries to accelerate change and build more sustainable operations and thriving businesses throughout the value chain, especially for our small- and medium-sized entrepreneurs who are crucial to the success of our local communities," she says.
The platform fuels a robust innovation pipeline through accelerator programs developed with universities, venture capitalists, consultants and entrepreneur organizations. More than 40 established startups and scaleups have participated in Levadura de Ideas pilot programs across Mexico, Colombia, Peru and the Dominican Republic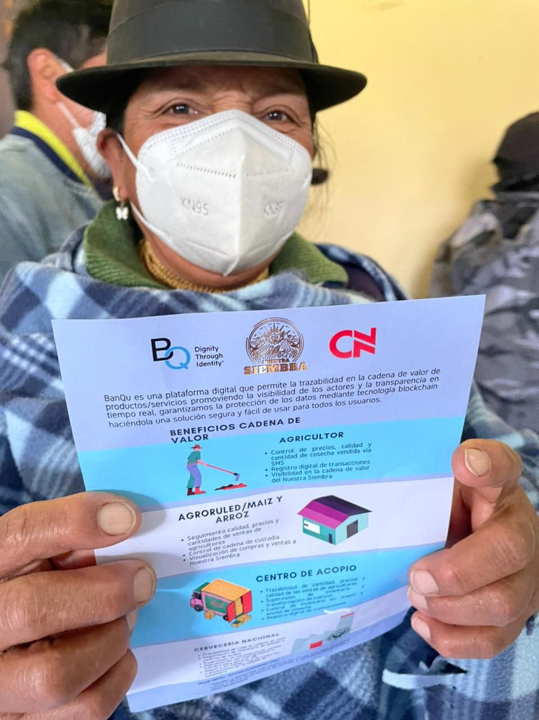 One of its newest pilots is in Ecuador with the blockchain enabled platform, BanQu, our Ecuadorian brewer Cervecería Nacional and its beer brand Nuestra Siembra. Together they created "Just Chain" a fairer marketplace for 250 smallholder farmers who grow the brand's local ingredients. Since July, more than one million kilograms of crops have been sold on the platform that connects farmers with cooperatives, aggregators, warehouses and transporters. Next, Nuestra Siembra will add QR codes to its packaging so consumers can trace the local source of its ingredients.
Transformational change at Grupo Modelo
Many of Levadura de Ideas' successes have been with Grupo Modelo, maker of Corona, Modelo and other iconic brands. It has 20 facilities across Mexico, including malting, glass and can making operations and a dozen breweries, with the Hidalgo facility producing 9.25 million beers every day.
To reduce energy consumption at Grupo Modelo, IOT (internet of things) tech from Nimblu is remotely monitoring select bottling lines in Mexico City to better analyze and reduce energy consumption. Front-line safety measures are also being transformed. Levadura de Ideas introduced Arvolution, a digital mobile platform to capture and analyze data from routine inspections and activities. It served as a critical tool for COVID-19 tracking and contact tracing for Grupo Modelo breweries across Mexico and eventually breweries in 16 other countries.
Another successful international program is with Superlikers, a Colombian startup. Together with Levadura de Ideas they have developed eight educational and loyalty programs in México, Perú and Ecuador using gamification, AI and image recognition features. More than 12,000 colleagues and partners are active users of programs such as Academia de Meseros Modelo, a beer education and incentive program for waiters, bartenders, and managers of restaurants and bars in Mexico
Unmatched opportunities for tech talent
To connect with up-and-coming tech talent, Levadura de Ideas also hosts hackathons. A recent one had 168 teams of data scientists vying to plan more efficient delivery routes, pinpoint ideal timing for product launches, and design more effective customer promotions. A few years ago, Grupo Modelo also registered and kicked-off BeerTank, a funding competition where colleagues can co-create solutions with startups.
Levadura de Ideas also frequently connects regional start-ups with global opportunities, through collaborations with tech hub Z-Tech, global investment and innovation group ZX Ventures, and the 100+ Accelerator, from AB InBev. 100+ addresses some of the world's most pressing environmental and social issues, and together with Levadura de Ideas, they introduced the Corona Plastic-Free Challenge earlier this year to help eliminate plastic from the consumer packaged goods supply chain.