Beer has long been a part of celebrating life and serving as a major engine for economic activity around the world. As the world's leading brewer, we are committed to promoting responsible enjoyment of our beverages and accelerating the reduction of harmful consumption of alcohol worldwide. To do so, we are using our expertise and skills to advance initiatives on Smart Drinking, including leveraging the power of our leading brands to engage consumers in ways that shape social norms and encourage positive behaviors.
In fact, as part of our Smart Drinking strategy, AB InBev has committed to investing $1 billion in dedicated social marketing campaigns by 2025, having invested more than $450 million to date.
Richard Oppy, Vice President of Global Brands, said creativity and fresh storytelling approaches can have a significant impact on evolving consumer behavior.
"We've put people and creativity at the heart of our company, which has helped us unleash the power of our brands to better engage with consumers, customers, and our communities to solve real problems. This includes creating inspiring campaigns that are building deeper consumer connections to influence positive behaviors and reduce harmful drinking," said Richard.
AB InBev's social marketing campaigns are setting new standards and being recognized globally. In fact, Cannes Lions recognized four of our Smart Drinking campaigns in 2021, including Aguila's "Live Responsible" campaign which used bottle caps to encourage responsible drinking behaviors such as eating before drinking, alternating drinks with non-alcoholic beverages, and more.
Here are some of our latest social marketing campaigns that are influencing social norms to reduce harmful drinking in our communities.
Transforming our Brazilian fleet into 'Responsible Billboards'
Building on a long history of road safety programs, Ambev, our local brewer in Brazil, transformed part of its truck fleet, one of the largest in the country, into a public information campaign for responsible consumption. The truck cabins were branded with non-alcoholic drink brands and emblazoned with the message, "Where there is a driver, there can't be alcohol" to serve as a reminder against drunk driving. The trucks have traveled across the country, bringing this message to millions of people.
Learning to say 'fair enough' in Leuven
Social pressure is often one of the reasons behind excessive drinking. To combat this, the AB InBev Foundation partnered with the city of Leuven, Belgium and several local bars and restaurants to create a movement that normalizes saying " " when your friend passes on that next pint, making it easier and more comfortable for drinkers to say "No, thanks."
Using the power of street culture to address drunk driving in China
Budweiser tapped into street culture to encourage responsible drinking behaviors among Gen Z consumers in China. The campaign, which featured K-Pop star Lay Zhang as an ambassador, included community events with street culture activities, virtual reality integrations, and limited-edition beverages to engage audiences of legal drinking age. The campaign became a top three trending topic on Weibo, China's most popular social media platform, and helped spread the word to millions of consumers.
Leveraging partnerships to end drunk driving in the U.S.
In 2021, Anheuser-Busch formed a first-of-its-kind coalition with rideshare platform, Uber, and the nation's largest drunk driving victim services and advocacy nonprofit, Mothers Against Drunk Driving (MADD), to help bring an end to drunk driving in the U.S. The campaign aims to drive behavior change by sharing a key message for consumers - "If you drink, don't drive. Decide to Ride." According to early internal campaign research developed by the coalition, consumers who are aware of the campaign are over 40 percent more likely to use a ridesharing app to avoid alcohol-impaired driving. Due to its success, the partnership was recently extended ahead of the summer holiday season in the U.S.
Corona bottles making moderation and hydration cool
Corona is using its iconic bottle to create a simple, new ritual that encourages hydrating while drinking at a local pub. When consumers return an empty Corona bottle to their server, they get it back filled with water, along with their next beer. After a successful test in Colombia, the #ReWater campaign is set to launch in select markets worldwide this year.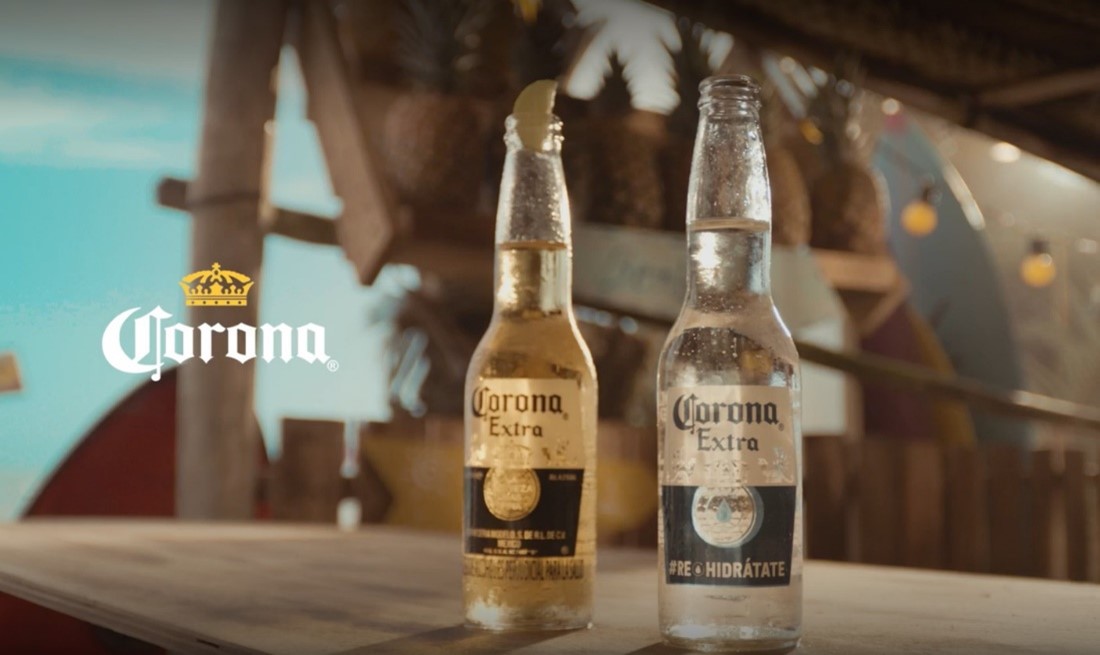 Recognizing great ideas
Each year AB InBev hosts a Social Norms Marketing competition that challenges our marketing teams around the world to develop even more impactful, lasting campaigns to change social norms, promote moderation and Smart Drinking. This year more than 100 campaigns are being considered.
Stay tuned to hear more about the entries and the winning campaign during AB InBev Smart Drinking Week, being held August 1-5, 2022.