We speak with Ties Soeters, North America VP of Logistics Procurement, about how green logistics provide us with a once-in-a-generation opportunity to scale up the transition to a low-carbon business at the pace that's needed.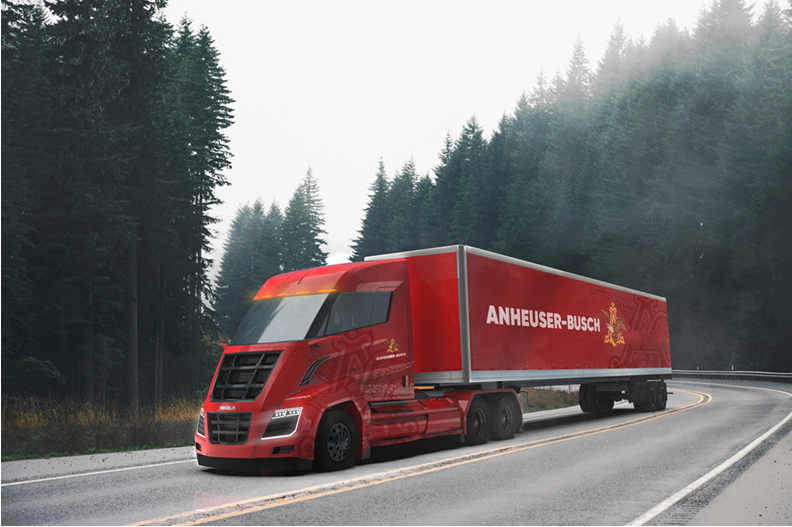 The development of electric and hydrogen-powered vehicles is part of a transport revolution across the world: in countries from India, to Brazil, to the U.S., and beyond. At Anheuser-Busch InBev, we've only scratched the surface of the business potential that clean energy vehicles can provide to our global operations.
We see the transformative power adopting greener logistics and new technologies can have and are working to fully embrace the positive changes these technoloiges offer. Being one of the largest road users in the world, we have the opportunity to make a significant impact on a scale that matters.
We believe that our investments in green logistics become even more valuable as they validate a future-gazing market – catalyzing the disruption of a currently carbon-heavy transport industry.
That's why we began conversations with innovative companies like Nikola Motor Company and Tesla to help decarbonize our transportion.
In the U.S., Anheuser-Busch is working to deliver on our global commitments to reduce carbon emissions by 25% through activities like converting our dedicated trucking fleet to renewable-powered trucks by 2025. Cutting-edge technology like Nikola's hydrogen-powered trucks help to accelerate this critical transition.
After starting out on the AB InBev GMT program more than 11 years ago, Ties Soeters, North America VP of Logistics Procurement, moved to St. Louis in 2016 to lead the logistics procurement team for our North America Zone.
"What was abundantly clear to me, very quickly, and to my wider team was that transportation as a whole was going through somewhat of a revolution, with a huge amount of capital investment coming into the area and a large number of new startups looking at ways to positively disrupt the industry."
According to the U.S. Energy Information Administration, in 2016, transportation actually surpassed power generation as the largest contributor to CO2 emissions in the United States overall, highlighting the urgency for companies to step up and make their logistics greener.
"As part of the drive in the U.S. for a significant change in transportation, as well as our desire to look at how we can fundamentally operate in the transportation industry in a completely different way, we set up an internal task force to look at a number of focus areas, of which alternative fuels, self-driving, and the digital freight marketplace (where companies like Uber, Convoy, Loadsmart, and Transfix come into play) took hold."
As a consequence of this, Ties reveals that, "Around two or so years ago, we started conversations with companies like Tesla, Nikola, and others, to look at how we can move to zero-emission logistics," working towards our 2025 Goal of a 25% reduction in CO2 emissions across our value chain.