At AB InBev, we dream big. And when we say big – we mean BIG!
Our team at Budweiser Brewing Group UK&I has recently announced the installation and operation of the world's largest wort cooler at the Magor Brewery located in South Wales, one of the largest breweries in the UK.
During the production of beer, unfermented wort, or the bittersweet sugar solution obtained by mashing the malt and boiling in the hops, is required to be cooled down prior to fermentation. After the energy-intensive stage of the brewing process, the hot wort must be cooled from 100°C down to approximately 10°C. The new wort cooler at Magor Brewery will chill 3 million pints of beer each day.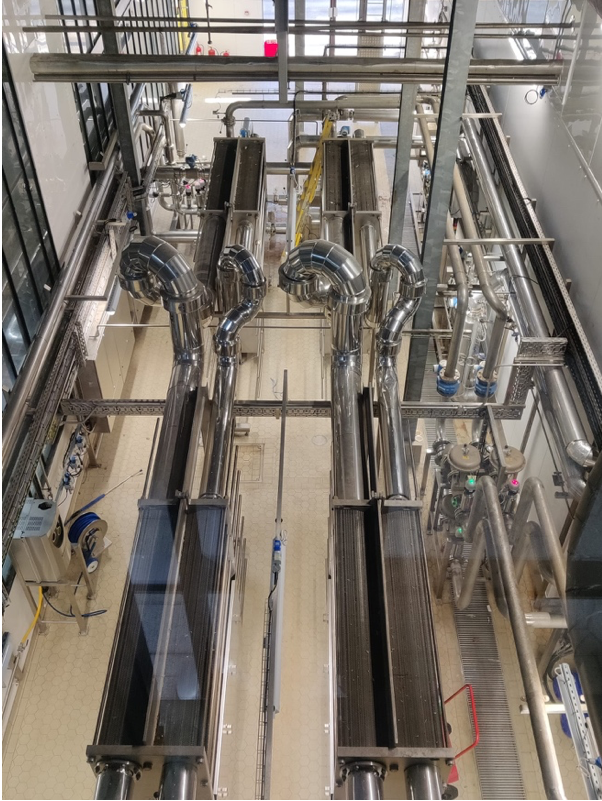 With a surface area the size of a football field, the new wort cooler is four-times the size of a standard wort cooler in a similar scale brewery. The new equipment has resulted in about a 6% reduction in energy usage at the site. Dale Jones, Technical Services manager at Magor Brewery said, "Step change improvements in energy usage are rare in our already efficient brewery and this project enabled us to achieve one of those rare occasions by taking us a big step closer to net zero emissions."
The installation is part of a £72m investment into the brewery announced last year in order to meet increased demand and sustainability goals. Magor already receives 80% of its electricity from solar farms and 20% of its electricity direct from a single wind turbine, which is among the largest in the UK.
Tom Brewer, Global Process Development lead of AB InBev said, "There are plans to install the new wort cooler in three additional breweries this year with a longer-term plan to install a similar design up to 100 breweries over the next few years."
The new wort cooler is just one piece of our incredible sustainability journey. Sustainability has always been a fundamental part of our company. From sourcing over 70% of our global electricity volume with renewables from solar and wind power, to the ambition of having the first European net zero brewing operations at scale by 2026, we are creating local change. Between 2017 and 2020, absolute GHG emissions in our global operations at AB InBev have been reduced by nearly 25% and value chain emissions reduced by over 10%
Additionally, to unlock the potential of green energy, our team at Budweiser Brewing Group is exploring the deployment of zero emission green hydrogen at Magor Brewery. This project envisages hydrogen production facilities that will include a battery, hydrogen storage unit and a hydrogen refueling station used for HGVs.
At AB InBev, we believe that a strong ESG agenda is important to creating a future with more cheers. From building a resilient and agile value chain to solidifying our role as a trusted partner in local communities to identifying and capturing new sources of business value, ESG will play a key role in delivering on our company's strategy and purpose.