AB InBev is bringing joyful experiences to basketball fans around the world with the global expansion of our marketing partnership with the National Basketball Association (NBA). The agreement makes Michelob ULTRA the exclusive and worldwide Official Beer Partner of the NBA, Women's National Basketball Association (WNBA), NBA G League, NBA 2K League, USA Basketball and Basketball Africa League.
"Our longstanding partnership with the NBA is key to our strategy of building platforms that connect beer-drinking occasions and consumer passion points with our brands," said Fabio Baracho Martinelli, Global Vice President of Connections and Occasions at AB InBev. "Expanding our collaboration around the world allows us to connect with even more adult basketball fans and to bring them together for meaningful moments of joy and celebration, creating a future with more cheers."
Did you know? NBA games and programming are available in 214 countries and territories in more than 50 languages. At the start of the 2022-23 season, NBA rosters featured 120 international players from 41 countries.
The global expansion builds on our 25-year relationship with the NBA, which officially tipped off in 1998. SInce then, it has evolved into one of the league's longest tenured marketing partnerships, committed to engaging the NBA's global fanbase year-round across its marquee events. Michelob ULTRA became the Official Beer Partner of the NBA in 2020.
Bringing fans closer to the game
Michelob ULTRA and the NBA deliver unique experiences to fans, including producing on-the-ground experiences at NBA All-Star, introducing the NBA player #ULTRADrip Cam to highlight NBA player fashion, creating Michelob ULTRA NBA Team Cans and NBA Championship Bottles, among many other partnerships and disruptive collaborations.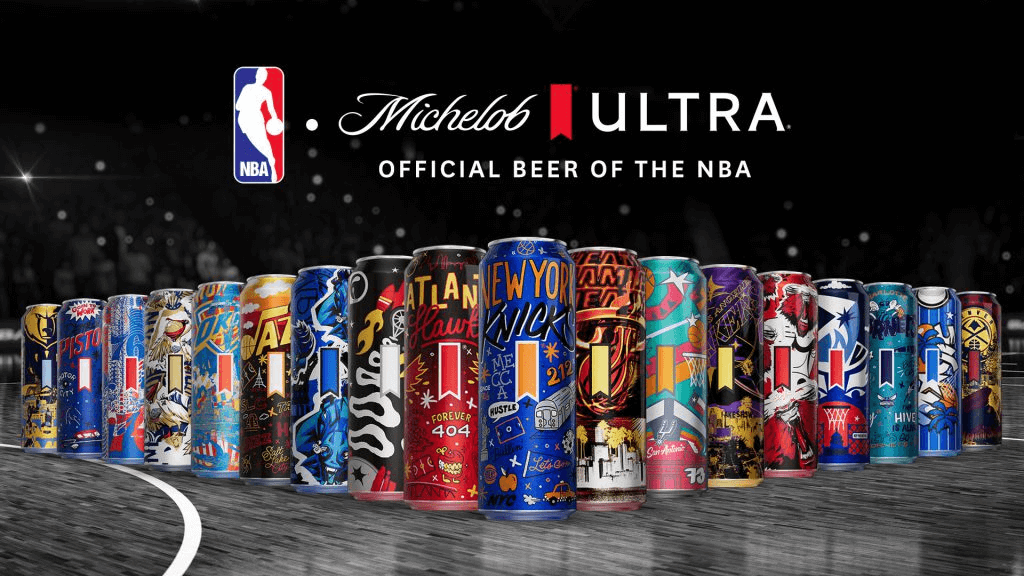 "We are thrilled to build upon our 25-year relationship with Anheuser-Busch and welcome Michelob ULTRA as the NBA's first-ever global beer partner," said Kerry Tatlock, NBA Executive Vice President, Global Marketing Partnerships and Media. "Michelob ULTRA has shown a passioned dedication to creating new, differentiated experiences for our fans, and we look forward to working with ULTRA to engage with our fans all around the world and bring them closer to their favorite game."
Highlights of the agreement include the expansion of Michelob ULTRA's marketing right across all the league's global territories, an expanded oncourt presence starting with the 2023 NBA Finals and a renewed commitment to increase visibility for women's sports by serving as a partner across every WNBA marquee event.
See the official announcement for more details on the partnership.