At AB InBev we are powered by great people. Our 'FutureMakers' series tells the stories of colleagues who are always looking forward and dreaming bigger to make a meaningful impact on the world. Today we introduce you to Deepika Hebbalalu, Global Manager and People Business Partner at BEES, who joined AB InBev in 2019 and has been instrumental in building innovative, impactful solutions to advance our diversity, equity and inclusion (DEI) agenda.
How did you get involved in DEI work? Is it something you feel a personal connection to?
Being raised as a first-generation American strongly influenced my life. Early on, I experienced the dichotomy of "being different" and how it could serve as both an asset and a drawback. I was also exposed to the stark differences in people's socio-economic levels and access to economic opportunities. I quickly realized that these differences were systemic, and that privilege — including my own — was unearned. Because of this, I have spent my life trying to enhance equity, level the playing field and create inclusive spaces for all.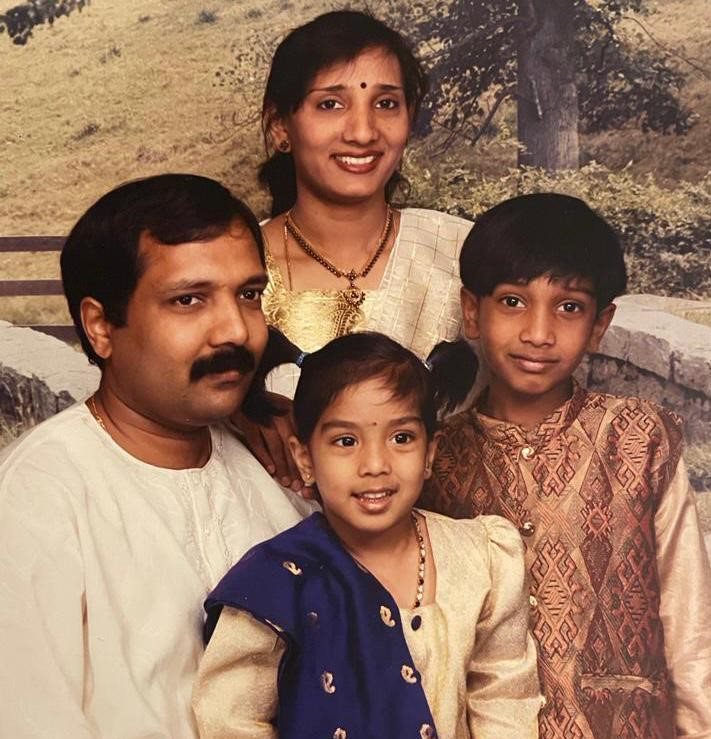 "I was born in California to two immigrant parents who had recently made the U.S. their home," said Deepika (center). "Being raised as a first generation American strongly influenced my upbringing, work ethic and helped shape my passion for people and community."
Why do you think giving everyone equal access to entrepreneurship programs will help AB InBev create shared prosperity?
To create shared prosperity, people of all backgrounds need to be given equitable access to opportunities. To me, creating entrepreneurship programs that anyone can access is crucial to combatting today's economic inequities. By reducing barriers to resources and funding, we can improve the lives of people in local communities. We also hope it inspires others to think creatively about how they can uplift their communities.
You've helped launch programs to support entrepreneurs. How did you approach that work?
First, we educated ourselves on the entrepreneurial ecosystem, the impact entrepreneurship can have on individuals and communities and the inequities that can come with entrepreneurship. When done right, empowering entrepreneurs can completely change how they build their businesses, generate personal wealth and support their families and communities. However, research shows that underrepresented entrepreneurs are less likely to succeed due to gaps in access to financial capital, access to a professional network and formal knowledge and education.
Dream place to visit? Favorite happy hour beverage and the person she'd most like to have join her? Find out the answers and more in "Five Questions with Deepika Hebbalalu".
How can we as individuals better support women and other underrepresented colleagues in the workplace?
Privilege is power, and I urge everyone to channel that privilege into uplifting others and influencing decision-makers to check their biases. To me, consistently trying to maintain a lens of equity is even better than allyship — it's advocacy. And advocacy can enable change at scale. Being a sounding board to women or, even better, investing time to coach or sponsor them can also be valuable.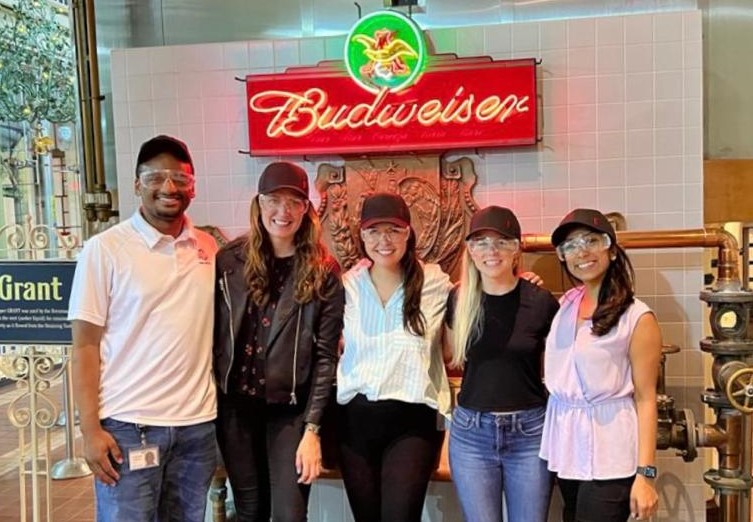 "Historically, the beer industry was mostly led by and served a homogenous group of people. That has changed drastically," said Deepika (far right). "AB InBev has shown me that industries can evolve with the times. Though there's always more work to do, AB InBev has been impressive in its ability to create programs to support female brew masters, innovate products that suit more consumers and effect positive change in other industries."
Finally: What does a 'Future With More Cheers' mean to you?
It's a future where we have more opportunity to celebrate everyone equitably. It's a future with more shared prosperity, more effort poured into uplifting our communities and more inclusion of diverse groups of people. Because we know that when our consumers and communities thrive, we thrive.