Hungry? With a few clicks, a hot pizza can be at your door in minutes. Now, TaDa Delivery offers consumers across Latin America and South Africa the same ease and convenience for people looking to enjoy a cold beer.
TaDa Delivery is AB InBev's first global, direct-to-consumer (DTC) digital platform. The delivery service offers cold beer, at competitive prices, in 30 minutes or less, ready to enjoy at home.
It is AB InBev's third DTC digital platform, in addition to Brazil's Zé Delivery, which launched in 2016, and our home bar experience, PerfectDraft. Our DTC offerings are reaching consumers in 17 markets worldwide. Last year our DTC business fulfilled 69 million orders and generated more than $1.5 billion in revenue.
"After just one year, TaDa Delivery is helping us put consumers at the heart of everything we do," said Lucas Herscovici, Global Chief Direct-to-Consumer Officer at AB InBev. "Through the platform we're connecting with people one-on-one, gaining insights into their preferences and creating more personalized home-based experiences."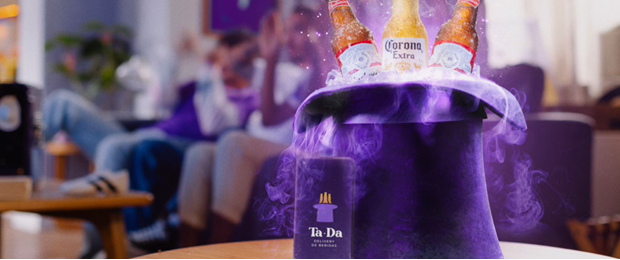 Enhancing at-home occasions
Before TaDa Delivery, AB InBev had home delivery services in multiple markets across Latin America. In 2022, TaDa Delivery was created to unify the best of each platform under one global brand. The name signals a belief in bringing 'magic' to enhance the experiences of at-home occasions, from barbecues and watching sports, to family dinners and special moments with friends.
TaDa Delivery offers easy access to premium brands like Corona and Budweiser, and local brands, as well as other products to meet consumers' needs for any occasion, such as ice and charcoal. Its rapid popularity sparked entry into 12 new countries in 2022 in just nine months. Today, more than 40,000 couriers are delivering products from the brand's local retail partners and our own stores in countries such as Mexico, Argentina, Colombia and the Dominican Republic, and our newest location, South Africa.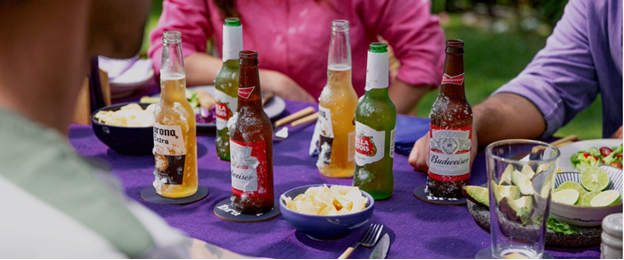 Creating more moments of joy
Offering more digital experiences for consumers is key to advancing our commercial strategy and expanding the beer category to engage with more consumers on more occasions. One of the biggest opportunities is in-home consumption. For instance, last year in Latin America, the number of consumers using our digital platforms for home delivery grew 15 times compared to 2019 pre-pandemic levels.
Accessibility and choice are not the only differentiators for TaDa Delivery. The brand is also helping advance AB InBev's circular packaging goal by making it easy for people to recycle and reduce waste in their communities. In available markets, consumers can hand their empty bottles to the courier, who takes them back to the retailer or our own physical stores. There, the bottles are sorted and returned for cleaning and re-use. More than half of bottles delivered by TaDa Delivery in Mexico are now being returned using this service.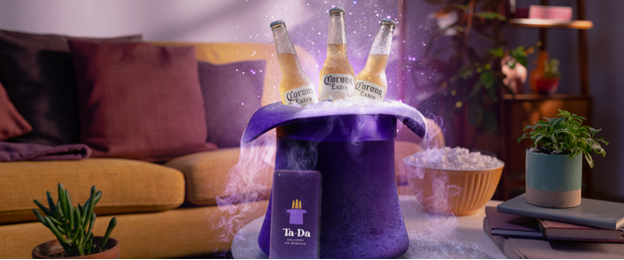 Data from DTC platforms help us learn more about consumer preferences and behaviors to better personalize our interactions at scale and create experiences and offerings that drive growth.
For example, consumers around the world are passionate about football and more than 20% of sales on our DTC platforms are related to watching the sport. Using the insights gained, our football-focused activations are attracting new consumers to our home delivery services and global brands like Budweiser, and local brands like Brazil's Brahma. During the 2022 FIFA World Cup, TaDa Delivery's integrated marketing campaign - spanning 10 countries and featuring Argentinian footballer Lionel Messi - helped increase awareness of the service by more than 14%.
"We expect in-home consumption to continue to grow," said Lucas, "and we will be ready to meet the moment with expanded services and offerings, and new partnerships to provide more joyful experiences for millions of people."