In late February, like millions of Ukrainians, Anna Rudenko's life changed forever. As a result of the conflict in the country, she left with her child, while some family members stayed behind.
A Marketing Director for AB InBev, Anna, along with dozens of colleagues and their families, found refuge and support at our global headquarters in Leuven, Belgium. With help from the local team, she found a place to live and took on a new project: launching Chernigivske – her country's most-loved beer brand – in the UK, Belgium, France, Netherlands, Germany, Italy, Brazil, the United States, Canada and other countries to help provide humanitarian relief for the people of Ukraine.
In honor of World Refugee Day, we sat down for a conversation with Anna, in which she shared more about her life, her work and beloved homeland.
How are you finding strength and support at this difficult time?
I'm glad to be part of a company that cares deeply about people. I'm being supported by my family, my Belgium-based colleagues and Ukrainian colleagues who are also here now. From the beginning, the company has made us their first priority and we're grateful for the counseling, housing and financial support.
I'm also staying in touch with my friends who are now living in different countries. Social connections mean a lot to me. They give a sense of belonging and help to relieve some of the stress and anxiety. I'm sure all Ukrainians who had to leave their homes feel the same way.
For nearly 10 years, you've been part of the marketing team for Chernigivske, Ukraine's most-loved beer brand. Now, it is being brewed for people all over the world as part of AB InBev's humanitarian relief efforts. What can you tell us about this initiative?
I'm super proud to lead the team that is bringing Chernigivske to 14 markets, where it's being brewed locally in the style of our original recipe. We're making it as easy as buying a beer to support humanitarian aid, while giving people all over the world the chance to experience something that Ukrainians love.
As part of this global initiative, AB InBev is donating at least $5 million to humanitarian aid organizations, including the CARE® Ukraine Crisis Fund and Caritas International. We have received very positive feedback in our daily conversations with retailers and consumers. I hope to see even more support for Chernigivske!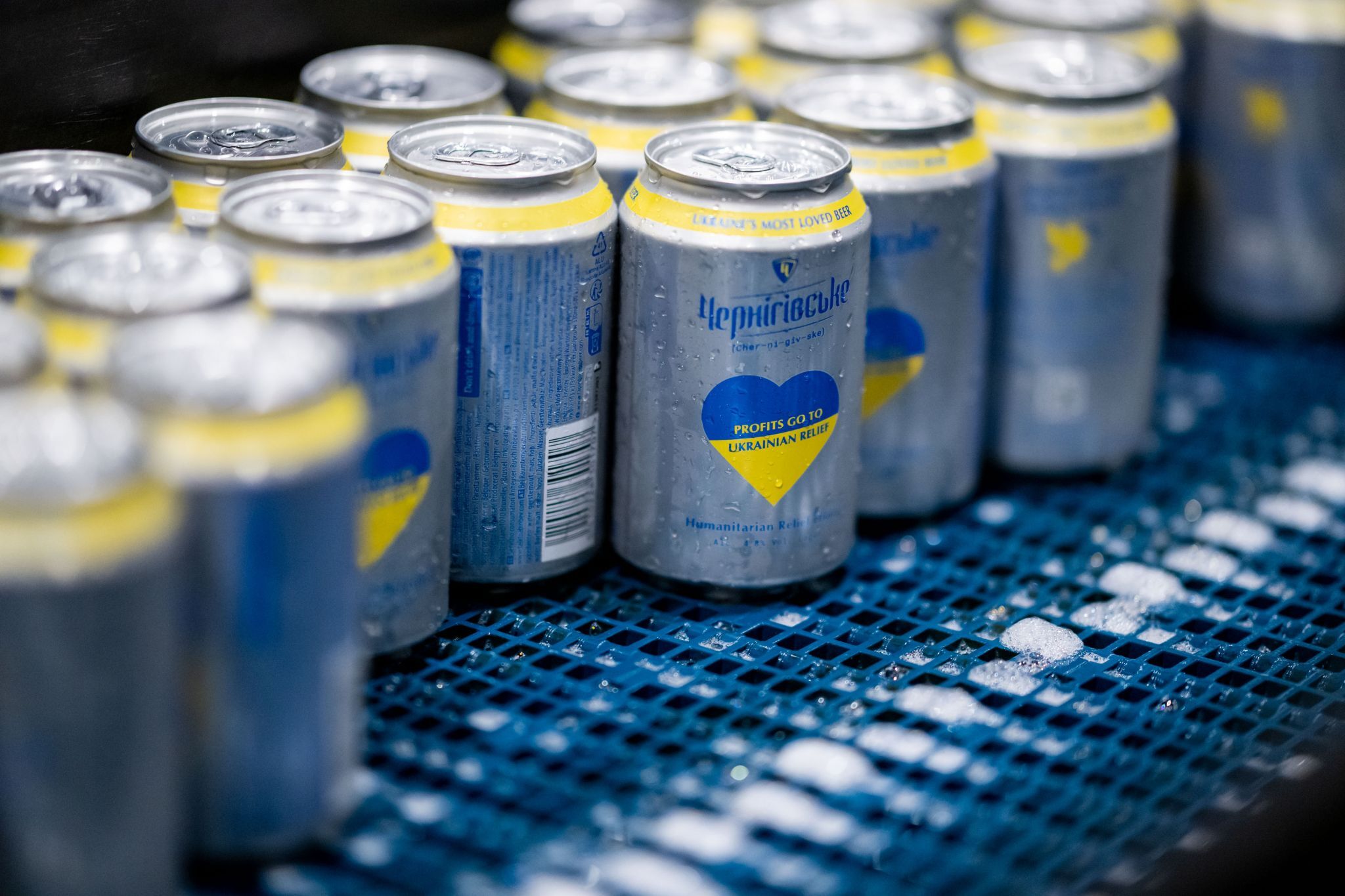 In addition to the launch of Chernigivske, AB InBev, along with other companies and local NGOs, has provided food, blankets and medical supplies, and donated three million cans of emergency drinking water to Ukraine and surrounding refugee relief areas
What does this project mean to you?
It's amazing to see such solidarity for all those who have been impacted. I'm grateful to contribute to my people with this very special project. It holds a deep sense of meaning, a lot of energy, love and support from people and for people.
For those trying Chernigivske for the first time, what makes it so special ?
Chernigivske has always been about celebrating Ukrainian history, culture and people. It's named after the city of Chernihiv. For taste, it's a crisp, refreshing European-style lager. If you want to enjoy it like a true Ukrainian, it's best with friends and family, outside, while having some grilled, ideally homemade, sausages.
What has been the reaction from your Ukrainian friends and colleagues?
A lot of us who left Ukraine in the last few months are buying Chernigivske to treat people we meet here. Those who were here in Western Europe before are buying it to support humanitarian relief. For all of us, it's a beautiful taste of home.
For more about Chernigivske, visit http://chernigivske.ua