We're recognizing five years of the 100+ Accelerator, our award-winning program that partners with innovative startups to help solve some of the world's most pressing supply chain challenges. After welcoming a record-making 46 startups last year, the 100+ Accelerator is now accepting applications for its fifth cohort.
The 100+ Accelerator was launched in 2018 to help AB InBev make progress on the United Nation's Sustainable Development Goals (UN SDGs) and our ambitious goals to advance water stewardship, smart agriculture, circular packaging and climate action across our value chain. The program provides mentorship, training and funding to entrepreneurs, with the objective to enable them to scale their innovations and bring them to market faster.
The program is making an impact by introducing innovations, such as:
Water reuse technology in our breweries aiming to reduce reliance on municipal water supply
Pilot installation of glass-free, flexible, lightweight solar panels at one of our breweries

Regenerative agriculture practices to help improve soil health and drought resilience for barley farmers

Machine learning software to further maximize energy savings and efficiencies in our breweries

Traceability and crop management solutions for smallholder farmers

Recycled electric vehicle batteries to store renewable electricity

Tech-enabled local recycling solutions
In 2021, the 100+ Accelerator welcomed leading global consumer goods companies, The Coca-Cola Company, Colgate-Palmolive Company and Unilever as founding partners.
"The 100+ Accelerator was created to harness the power of innovation and entrepreneurship with the size and scale of AB InBev to transform global supply chains and help to solve today's complex sustainability challenges," said Maisie Devine, Executive Director of Sustainable Innovation at AB InBev.
"But it was clear from the start that we couldn't achieve that dream alone and collective action was key. Today, our partners operate in almost every country in the world and their products can be found in almost every household. Together we are leading the shift toward sustainable solutions for doing business."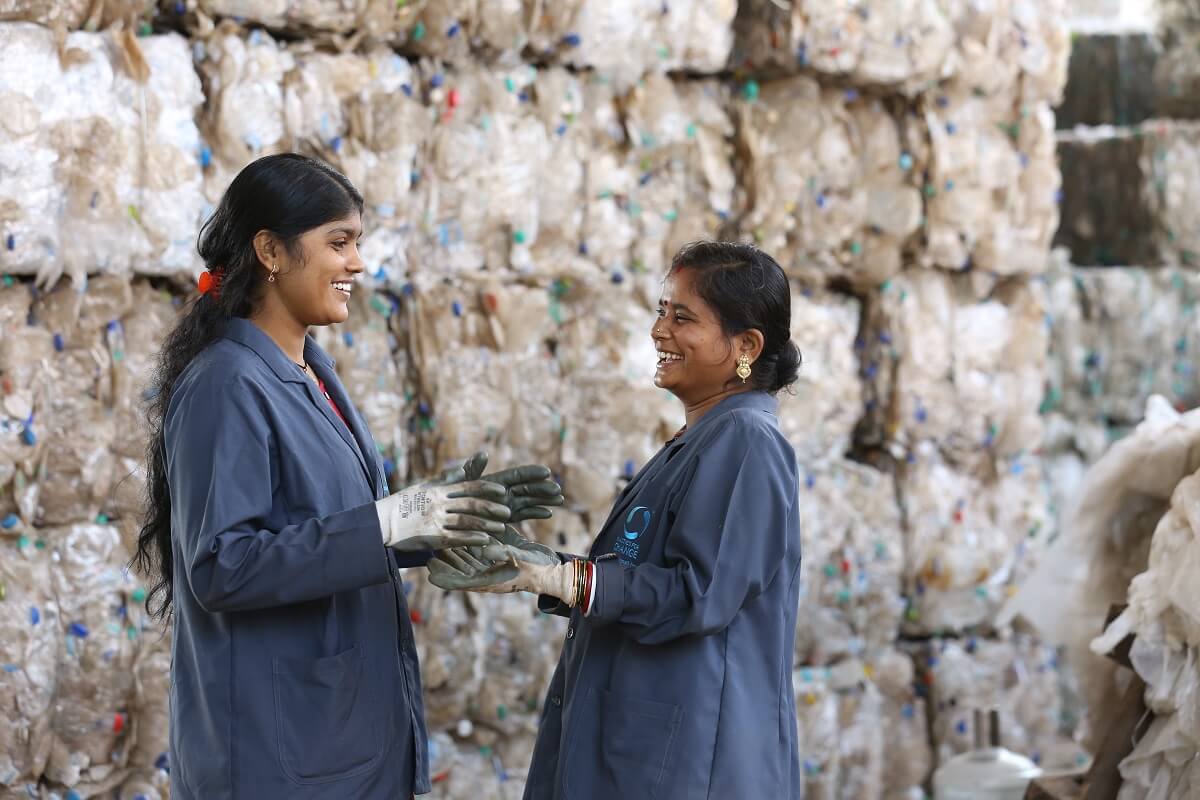 The 100+ Accelerator startup, Plastics For Change, collects and recycles post-consumer waste in India
Up to the challenge? Apply for the 100+ Accelerator fifth cohort

Applications are now open for its fifth cohort. The 100+ Accelerator looks for innovative solutions that can scale quickly and have the potential to significantly impact one or more 'challenge' areas that contribute to the UN SDGs and 100+ Accelerator partner companies' sustainability goals: Sustainable Agriculture, Water Stewardship, Circular Economy, Climate Action, Biodiversity, Inclusive Growth and – new this year – Health and Wellness.
Selected startups will receive mentorship, training and up to 100,000 USD to implement a pilot project. Partner companies also advocate for participants to help develop and grow their businesses with peer companies and investors.