For many, beer marks moments for cheers and celebration. For others, beer takes on a greater significance: it brews a passion for perfection.
Across the globe today, there are only 20 individuals with the title "Master Cicerone," a recognition of those with significant knowledge and professional skills in the beer industry. This renowned title is hard-won. It can only be earned after thousands of hours of studying and passing an intensive, two-day exam that tests expertise in beer styles, draft systems, brewing technology, and beer and food pairings. Currently, three Master Cicerones are colleagues within AB InBev, with one just recently awarded this title.
Meet Shane McNamara: one of the 20 Master Cicerones worldwide, the first from Australia, and AB InBev's own Global Manager of Innovation and Beyond Beer Quality. To Shane, beer is a "perfectionist's dream."
We sat down with Shane to learn more about his expertise, how it's shaping AB InBev, and our collective Future with More Cheers. Here's a short look at our own "master class" in beer.
What inspired your passion for beer?
When you think of beer, it's part of our cultural social fabric across the globe. This endeared me to want to know all about it – what it is, what's in it, how it's made and how people drink it. Why wouldn't you want to take an interest in something so celebrated?
How did this shift into a passion for perfection?
If I want to do something, I want to know everything about it. I began brewing my own beer at home in Brisbane, kicking off my interest in the various ingredients and how to perfect the process. This took me down a path of not just throwing things in a bucket but digging into the science behind it. There was also an artistic side – not only in terms of the flavor itself, but in the process for achieving a particular flavor profile.
Wanting to understand and master all aspects of my passions is a typical trait of mine. Eventually, this is what led me to move from homebrewing to studying for my Masters in Brewing at the University of Nottingham, where I was able to do a deep dive on all aspects of the beer and brewing process.
Going on to study and work in the alcohol industry is not something you have a discussion with a career counselor about in high school. So, I'm glad I recognized early enough in life that this was something I could do and love every day, with endless opportunities to learn, create and perfect.
What was the hardest part about your education and testing?
The exam to earn the Master Cicerone title is mentally draining and exhausting. It's two days of writing, tasting, problem-solving and explaining all facets of a beer. But the tasting portion is always the most difficult.
During the exam, you're tasked with tasting, deconstructing, and interpreting a wide variety of flavors found in beer. There are over 30 specific flavors you must be able to identify blind; it could range from smelling like leather to cheese to vinegar to wet cardboard. Some of the flavors are incredibly subtle, others very similar. To be successful, it's critical to learn every flavor first and embed it to your memory. Then, during the blind test, you will have a stronger chance of correctly recalling the flavors. It was a learning curve, but now I think in terms of flavor and what flavor means.
Today, from one taste of a beer, I'm able to determine the ingredients used, brewhouse technique and fermentation practices undertaken – its entire history in one sip.
You are one of only 20 people in the world with the title Master Cicerone. How did you get to this point and what does it mean to you?
A lot of beer, studying and travel. For me it's an acknowledgement and confirmation of years of hard work, determination and representation of my passion for beer.
How have the people you have met – from professional brewers to professors and chefs – shaped your experience and interests?
I've discovered that a lot of brewers are perfectionists – like me. They want to produce the best beer possible and anything short of that is a failure. Chefs are always inspiring to me for flavors and combinations. This has really influenced me to care deeply about what we are doing when brewing new beers and designing recipes. Expanding your understanding of individual ingredients, flavors, broader cuisines – and how it all comes together – is pivotal to brewing great beer.
As a Master Cicerone, do you have any favorite new beverages from AB InBev?
This is going to break a few beer hearts, but I've been enjoying the seltzers we produce. It's such a fun space where you can create hundreds of variants over the course of one day. In contrast, the innovation process for perfecting a beer can take months.
Working at the world's largest brewer, have you found any misconceptions about the industry? What's something people should know about the industry but typically don't?
People assume that we don't focus on quality, when we're actually obsessed with it. We know the name of the farmers that grow our barley, the pickers who harvest our hops. We taste the water at the brewery before every mash. The yeast for our beer is protected by coded vaults. The beer is tasted six times across the brewing and fermentation process. We love and care about every ingredient and every step of the process to ensure that beer in your hand is the best it can be.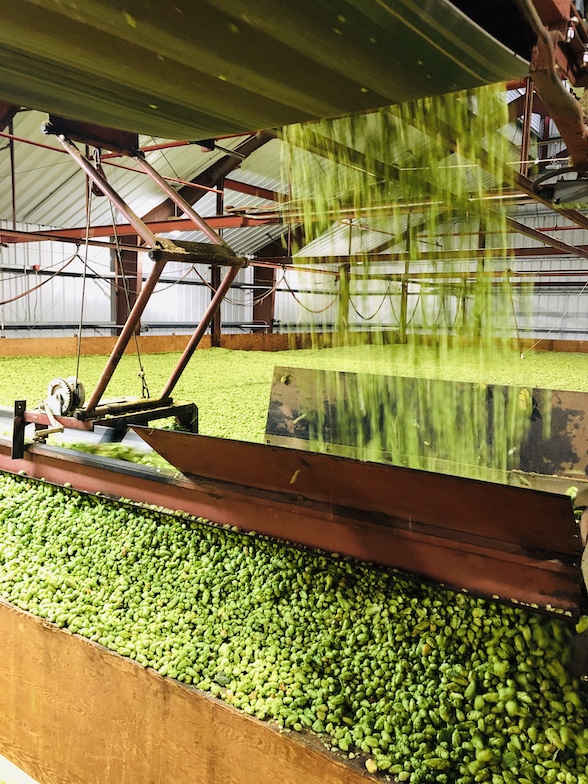 What do you think is next for the beer industry?
The most exciting period is just around the corner. What I reflect on is what does the next generation of beer drinker of 2030 look like?
That timeframe is less than a decade away. Do consumers want craft beer? Do they want local beer? Do they want international beer? Do they even want beer? This group of drinkers will have only ever known a world of wide variety and choice of beer.
When your starting point is reimagining the future of beverages, I'm excited to see how the beer space evolves. Let's not forget, Gen-Z are already the largest generation, making up approximately 1/3 of the global population or 2.5 billion people! They represent a huge market force in the coming future once they're all old enough to drink beer in their respective countries.
Consumer behaviors shifted amid the pandemic – how do you think it may have changed the way beer and non-alcoholic beverages play a role in our lives?
The reality is our occasion-based drinking has changed – people have largely been in hibernation for the past two years, impacting how and when we interact with others in social occasions that often include alcoholic beverages. Identifying and understanding these new occasions and consumer needs will be pivotal as we emerge from the pandemic.
What is also important to acknowledge is the way we drink and socialize is vastly different across the world – there are intrinsic ways in which people in the United Kingdom, Korea, the United States and Brazil all consume beverages. Every country and culture will come out of the pandemic in a different way – ultimately creating more opportunity to innovate beverages for everyone, including beers, seltzers, no or low-alcohol drinks and more.
Where's your favorite place to have a beer?
I've traveled across the world to over 40 countries now, on all continents except Antarctica. While every place has an incredible, unique culture and way of drinking, the pub will always be my favorite place to have a beer - anyone who knows me knows I enjoy a proper pub!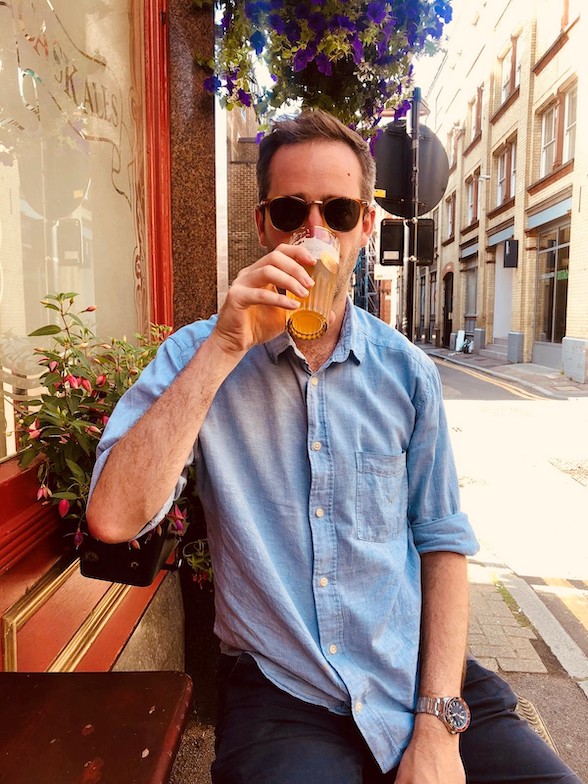 With that, can you tell us your favorite beverage?
Fresh beer. This is something you can't beat. And even better when there's a culture of fresh beer surrounding it. Cask in England. Chopp in Brazil. Bia Hoi in Vietnam. Kolsch in Cologne.
What's a beer type or pairing that you think more people should know about?
My favorite pairings are those that focus on contrasting core tastes (sweet, sour, salty, bitter, umami) to provide balance. For example, if you have a lemon meringue pie that is a little overly sweet, you could pair this with a Belle Vue Gueuze, which is a beer full of a wonderful tart acidity that can help balance out that sweetness and emphasize the lemon flavors in the dessert.
If you could have a beer with anyone in the world, who would it be?
Ricky Gervais. He's someone incredibly astute in observing how we behave as individuals and a society. He takes no prisoners and holds no punches. Plus, he always enjoys a few pints of beer.
What does AB InBev's new purpose "A Future with More Cheers" mean to you?
We often pay little attention to the impact beer can have on our lives and the different occasions where it's enjoyed: after a hard day's work, celebrating a birthday, reminiscing with loved ones. We have so many touchpoints in people's lives and are a part of their journey. So, when I think to a future with more cheers – to me it's the perfect embodiment of how beer connects with those moments across one's life.
Do you have any tips for how people – masters and amateurs alike – can get involved in the world of beer in a more meaningful way?
Overall, it's important to keep an open mind about what beer is and what it means to people – this will change your perspective and how you approach the industry.
I always recommend that people stay curious, ask questions, and find friends along the way. This helped me immensely. Whether you're pursuing a professional career or simply looking to learn more about beer, look for others on the same journey. This shared experience and passion – enjoyed over a beer – is the best thing about this industry to me and I'm looking forward to continuing to share that with others.