Last week, we celebrated our second cohort of the 100+ Accelerator program. After rigorously vetting over 1,200 submissions, seventeen companies have been selected. Among these are global sustainability experts, regional sustainability teams and entrepreneurs, all of whom we believe will help drive progress towards the United Nations' Sustainable Development Goals (SDGs) and our 2025 Sustainability Goals.
"Every year, I am so impressed and inspired by the entrepreneurs solving key sustainability challenges for global supply chains," said Maisie Devine, 100+ Accelerator Global Director. "Combined with the scale and reach of AB InBev, they have the ability to truly change our world."
Through the 100+ Accelerator we are looking for partners who can deliver breakthrough advancements in renewable energy, recycling, hydro technologies, farm quality and yield, reducing harmful used of alcohol and re-using brewing byproduct. Our six challenges were developed with input from AB InBev colleagues and third-party experts around the world. Successful applicants will receive mentorship, funding and access to new networks.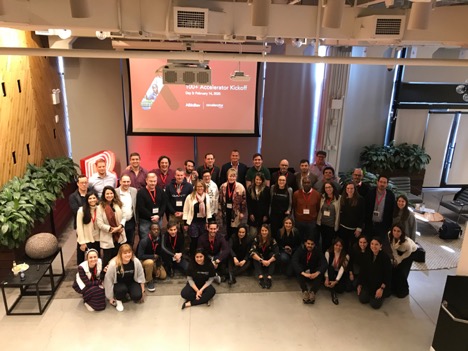 In New York this week, the start-ups attended a three-day workshop that offered lean start-up training, network advice, and technical expertise. The program is intended to provide the start-ups with the tools, resources and contacts they need to implement & scale these solutions across our businesses & partners.
At one of the events, Tony Milikin, Chief Sustainability & Procurement Officer, spoke with the new cohort sharing, "you're taking risks and putting your heart and soul into your business not just for your company to benefit, but for my children and the next generation of children to benefit."
Each start-up will receive up to $100k and the opportunity for follow-on investment from our company and partners at a demo day later this year. This demo day will offer the best of our 17 bootcamp companies a chance to pitch their company and solution in front of our top leaders and an external audience that will include large companies, potential customers, public and private investors and firms, NGOs, Government officials, and the general public.
We're excited to introduce the second 100+ Accelerator class (in alphabetical order):
ASARASI - Extracts pure, naturally filtered water from living Maple trees to create the world's only sustainable and renewable, bottled sparkling water
CH Bioforce – Ethical sustainable and cost-competitive method to replace fossil-based materials and cotton
Club Soda – Mindful drinking movement and community
Comet.bio – Healthy and sustainable ingredients from upcycled crop leftovers
Conscious Container – Developing a refillable glass bottle system
Ecopackers – Harnesses the power of plants to help existing plastic manufacturers create single use plastics in a 100% eco-friendly and non-toxic way
Globelet – Produces trackable, reusable products that can be linked back to their factories to be washed and reused
Greenline Africa – Reduces carbon dioxide emissions with green technology
Project X – Addresses large waste dumps from tourism industry in the Dominican Republic
Gybe

– Offers water quality information to businesses and governments

MIBA – Turns waste into powder to be used for creating new products
Nomo Waste– Creates more efficient recycling solutions
OKO – Offers a turnkey crop insurance solution
Plataforma Verde – Offers a solid waste management software platform
Shianco – Turns rice husks into building materials
Upcycled Nutrients – Transforms recovered nutrients to produce enhanced efficiency fertilizers
Zoom Agri – Determines quality of agricultural commodities via image processing
Check out the photos from our New York City meet up this week. To find out more about the Accelerator visit our webpage.