Responsibility for our product goes far beyond the last sip. We're constantly looking for ways to increase the recycled materials in our packaging, to increase recycling rates around the world through the recovery and reuse of materials, to reduce the amount of material we use in our packaging, and to educate consumers on the importance of recycling.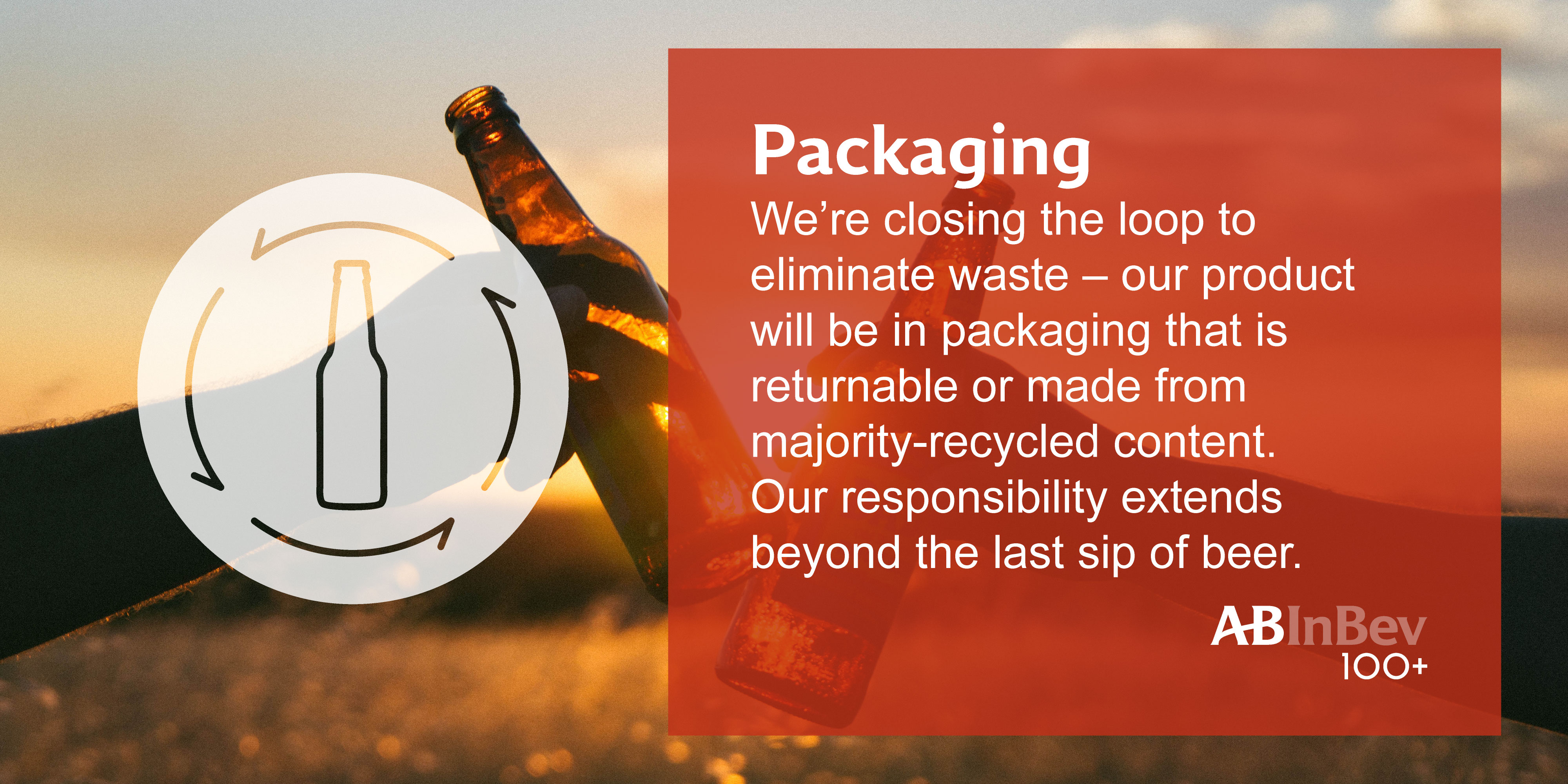 Our approach
As the world faces increasing resource scarcity, taking a circular approach to packaging and improving the materials we use will deliver long-term financial benefits and provide our business with long-term packaging supply security while eliminating waste. More than 36.4% of our volume is sold in returnable packaging. Packaging alone is accountable for almost 36.4% of our GHG emissions, further underscoring the importance of this commitment to our business and our efforts to address climate change. To achieve our goal, we focus on four key pillars: innovation, brand engagement, disruptive models and collaboration. We take an approach of reducing packaging (lightweighting) and the need for virgin materials where possible, increasing recycled content, identifying opportunities to recycle materials and promoting the recovery and reuse of packaging in its original form. We are leveraging our packaging design and brand innovation capabilities to rethink our packaging and distribution models, working closely with our team at GITeC in Leuven, Belgium to assess, develop and implement sustainable packaging technologies.
Walking the Path to Zero-Waste
Currently, 16 of our breweries produce zero waste, while our other breweries continue to pursue 100% recycling rates in their operations. In 2020, we achieved a 99.2% recycling rate globally. Our packaging goal applies to our primary packaging which represents more than 85% of our total packaging volume by weight globally, though our work in circularity extends to secondary packaging and post-consumer waste. In many markets, our local businesses have been engaging in transformational programs that seek to change mindsets and behaviors towards waste, working in partnership with local governments, cooperatives, entrepreneurs and NGOs to create the systems needed to build circular economies locally.

We have defined clear priorities with our development teams, as they search for ways to replace, reduce (lightweight), reuse and recycle our packaging materials. To help guide this work, we have developed and integrated sustainability tools to utilize through the different stages of our packaging innovation process. One of these tools is the Innovation Scorecard, jointly developed with the Instituto de Embalagens in Brazil. This tool combines metrics such as reduction of packaging materials, country recycling rates, recycled content of the packaging and local carbon emissions factors into a single scorecard so that we can easily compare across different packaging types to guide our innovation decisions.
The World's Largest Circular Economy
We believe that bringing sustainable solutions for packaging recovery and return to our consumers will help increase public awareness of the value of adopting circular options like returnable bottles, and in turn will drive more sustainable consumer behavior. Approximately 35% of our volume is sold in returnable glass bottles, which are nearly five times less carbon-intensive when compared to one-way bottles. The majority of our bottles can be used up to 15 times and some can be used up to 100 times. Another 1.7% of our volume is sold in kegs that can be reused for many years, reducing the need for virgin packaging materials and GHG emissions. Although the pandemic impacted our returnable packaging mix, we continue to promote returnable types of packaging as markets reopen.
A Commitment to Recycled Content
For packaging that is not returnable—namely one-way glass bottles, aluminum cans and polyethylene terephthalate (PET) bottles—we are committed to reaching a minimum of 50% recycled content. By 2025 we aim to avoid the use of more than 1.3 million tons of virgin material per year (when compared to a 2017 baseline) by increasing the amount of recycled material used in our packaging. The increase of recycled material also will stimulate local collection programs, reduce waste leakage into the environment, substantially decrease the amount of energy needed for packaging production and reduce the GHG emissions generated by packaging materials in our supply chain.
Engaging Consumers
Corona is our global brand championing our Circular Packaging efforts, aiming to support the reduction of plastic waste from investing in packaging innovation to promoting collection programs. Since 2017, Corona has worked in partnership with the organization Parley for the Oceans to protect Corona's homeland—the world's oceans and beaches—from plastic pollution, taking on the challenge of protecting more than 100 islands through clean-ups, awareness campaigns and other initiatives. As a result of these efforts, Corona and Parley have collected more than 54,900 kilograms of plastic waste and engaged more than 2,700 volunteers between 2017 and 2020. For our company, the value of achieving packaging circularity goes beyond just the environmental impacts—it enables us to contribute to building economic security and resilience through the creation and support of networks of local businesses that improve livelihoods.
Empowering Partners to Scale Innovative Solutions
Through the 100+ Accelerator we pilot transformative, disruptive solutions that we believe can be scaled across our business to help tackle some of the biggest sustainability challenges that we face. In packaging, these startups are helping us build better recycling infrastructure and creating an inclusive the circular economy, where collectors and communities play an important role.
Green Mining: Green Mining is an exciting Brazilian start-up that "mines" empty glass bottles in high-consumption areas and uses blockchain to guarantee full tracking of bottles' origin, transportation and destination. The initiative also works to formalize the work of waste collectors, providing collection and safety equipment and ensuring secure incomes for collectors. Green Mining started their operations in November 2018 and has setup collections points operating in states throughout Brazil. The glass they collect goes directly to our own vertically integrated glass plant. Green Mining was also recognized by Climate Ventures and was invited to represent Brazil in the Climate Launchpad Mundial Competition in Netherlands.
Green Mining picker collecting Empty Glass Bottles in the neighborhood
Nomo Waste: This Colombian social company, dedicated to sustainable waste management, is helping strengthen recycling cooperatives to collect one-way glass bottles and return them to our breweries so they can be reused and refilled as returnable bottles. This program enables recyclers to improve their incomes by paying an agreed price for the bottles. And through the use of another 100+ Accelerator startup BanQu, it provides collectors with a digital record of their work that enables them to begin building a financial history and access financial services.
Francy Katherine Chavarro – part of Nomo Waste Project
The Many Faces of Collection
Millions of people make their living from waste collection and recycling, and 65% of these people working as recycling collectors provide crucial income for households. We are involved in recycling programs across our markets, and we recognize the vital contribution of recycling collectors in many countries and particularly the role of women within these supply chains. We have developed projects that integrate collectors, small and medium enterprises and cooperatives to increase collection efficiency, improve the livelihoods of recycling collectors and work towards our circular packaging goals. Through different programs across our zones, we look to partnerships and innovation to work with formal and informal recycling collectors. To help us to understand the impacts affecting recycling collectors and guide the identification of effective solutions, we are working with Oxfam GB to create and implement an impact framework and toolkit.

Following the pilots in our agriculture programs, we also have introduced BanQu into our recycling collectors' programs in Zambia and Colombia. The technology provides transparency into transactions, meaning we are able to verify that collectors receive a fair price for the bottles and materials they collect and to build our understanding of those working within our supply chain.
Michelob Ultra with Conscious Container
In the US, together with Conscious Container, one of the startups in the second cohort of the 100+ Accelerator, we are piloting returnable bottles in markets that today operate almost exclusively with one-way bottles in order to better understand consumer needs and incentives that will help build feasible circular systems in the future. Conscious Container has partnered with Globelet, an app that allows users to gain insight into how much trash they are preventing from entering landfill and oceans through their choices. When returning their empty bottles, consumers sign into the app and are prompted to scan the QR code on the Conscious Container collection bin and on specially labeled bottles and 12-pack cartons to learn more about their impact.
Brazil Plastic Waste Commitment
In January 2020, our Brazil business publicly committed to eliminate plastic waste from its packaging by 2025 – a significant step forward given our soft drinks portfolio in that market and the prevalence of PET in soft drink packaging. To accomplish this, the team will undertake a multi-disciplinary effort: eliminating and replacing plastic use, promoting returnable and recycled packaging, stepping up recycling and investing in innovation and partnerships.
Going Beyond Primary
In addition to focusing on our primary packaging, we also look to minimize secondary packaging material to conserve resources and foster a cleaner environment. In 2019 in Belgium, packs of our Jupiler brand are now sold in 100% recycled shrink packaging, transforming what was previously waste into packaging again. In 2020 in the UK, we made a nearly 8 million USD investment to replace plastic rings with technologies like KeelClip™, a recyclable paperboard alternative. In 2020, we reached an exciting milestone – our entire portfolio of beers in the UK and Ireland is now plastic-ring free. Along with decreasing our usage of plastic shrink wrap, we will be eliminating 850 tons of plastic waste.
Return Home – Circular Packaging
Every day in Colombia we sell one million bottles. To rescue one-way bottles and give them a second life in our bottling lines, we launched the Return Home project in 2020 in Bogota to connect recycling collectors and cooperatives with restaurants and bars around the city. Working with Nomo, one of our 100+ Accelerator startups, Return Home helps create collection routes providing regular pick-up service for bars and restaurants, cutting down the need to store bottles. At the same time, it incentivizes collectors through a price premium with the ambition of improving their livelihoods. We knew we needed to confirm that the premium reached the collectors, so we partnered with BanQu another 100+ Accelerator startup that uses non-crypto blockchain technology to increase visibility of some of the most vulnerable people in global supply chains. Using BanQu, we were able to see that the premiums were being paid to collectors and gain insights into how the collectors work and the challenges they face. Through our work with Nomo and BanQu, we know that over 40% of collectors in our project are women and nearly 70% of those are single head of household. We also learned that over 80% of collectors are using manual carts that impact their physical health.

Return Home and Nomo have worked to dignify the work of recycling collectors by improving incomes and providing uniforms and personal protective equipment. Through BanQu, the recycling collectors are being provided with a financial history and added security of being part of our value chain. As a result, we have built trust with the cooperatives and collectors and have a greater understanding of the social and human rights impacts that exist as we build further plans to help address them.