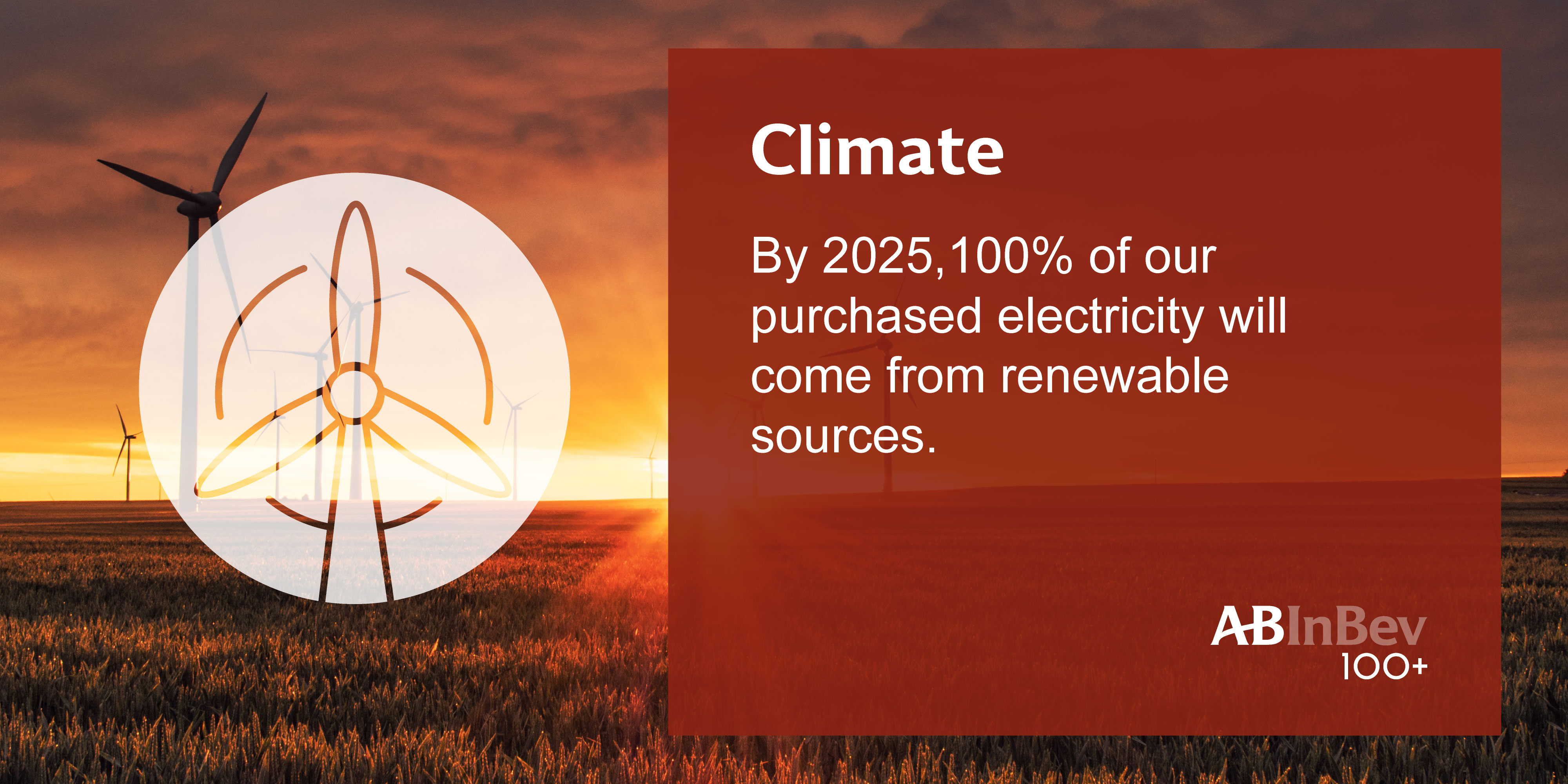 Our ambition to achieve net zero across our value chain by 2040
At AB InBev, we are committed to driving decarbonization and building climate resilience through our 2025 Sustainability Goals. We are proud to announce a new ambition to achieve net zero across our value chain by 2040. For more details, click here.

Our approach
We are building climate resilience by committing to transition our global operations to 100% renewable electricity and reduce our GHG emissions by 25% across our value chain. Following the Intergovernmental Panel on Climate Change recommendation, in March 2018 we set a science-based target that is in line with reductions required to keep warming to 1.5 degrees Celsius. We are committed to reducing absolute Scopes 1 and 2 GHG emissions by 35% by 2025 from a 2017 base year, in line with the 1.5 degrees pathway. Furthermore, we commit to increasing annual sourcing of renewable electricity from 7% in 2016 to 100% by 2025. We also commit to reducing emissions across the value chain (Scopes 1, 2 and 3) by 25% per beverage by 2025, from a 2017 base year. We include over 87% of our total Scope 3 emissions in our science-based target, putting us well over the two thirds inclusion threshold that is required by the Science Based Targets initiative.
Through our 2025 commitment, we aim to organically reduce GHG emissions. Our strategy centers on reducing Scope 1 and 2 emissions and categories within Scope 3 emissions that have the most material impact. Scope 3 categories included represent more than 87% of Scope 3 emissions:
Purchased goods and services
Upstream transportation
Emissions from fuel use not included in Scopes 1 and 2

Downstream transportation

Use of sold products (product cooling)

End of life

About 5.8% of our emissions, or around 1.6 million tons CO2e, come from electricity consumption in our own operations. We are committed to reducing 100% of these emissions by adopting renewable electricity by 2025. Our strategy to reach this goal is based on additionality and proximity, adding additional capacity to the grid and taking a market-by- market approach to identify solutions for each individual grid. As members of the global corporate renewable energy initiative RE100, we follow the initiative's guidelines with our renewable electricity sources coming from solar, wind, biomass, biogas, geothermal and water. We also follow RE100 guidelines on energy generation, leveraging self-generated energy through either on-site installations or off-site PPAs.
Logistics, including upstream and downstream distribution, represents around 8.9% of our global GHG emissions. These emissions come from the burning of petrol, diesel and other fuels in all forms of transportation, including trucks, ships and trains. As a part of our commitment to reduce our emissions by 25%, we look to reduce our emissions from logistics and transportation through route optimization to reduce fuel usage and the use of alternative fuel vehicles, the latter of which we have piloted across all our zones.
We also engage our consumers in our climate action ambition by leveraging one of our global brands, Budweiser, to champion a renewable electricity transition globally and empower consumers to choose renewables. Budweiser's renewable electricity symbol celebrates our commitment to brew with 100% renewable electricity and we have made the symbol available to other companies and brands to demonstrate their own renewable energy commitments.
Through our strategic plan, we estimate we will eliminate over five million tons of CO2e across our value chain, by 2025.