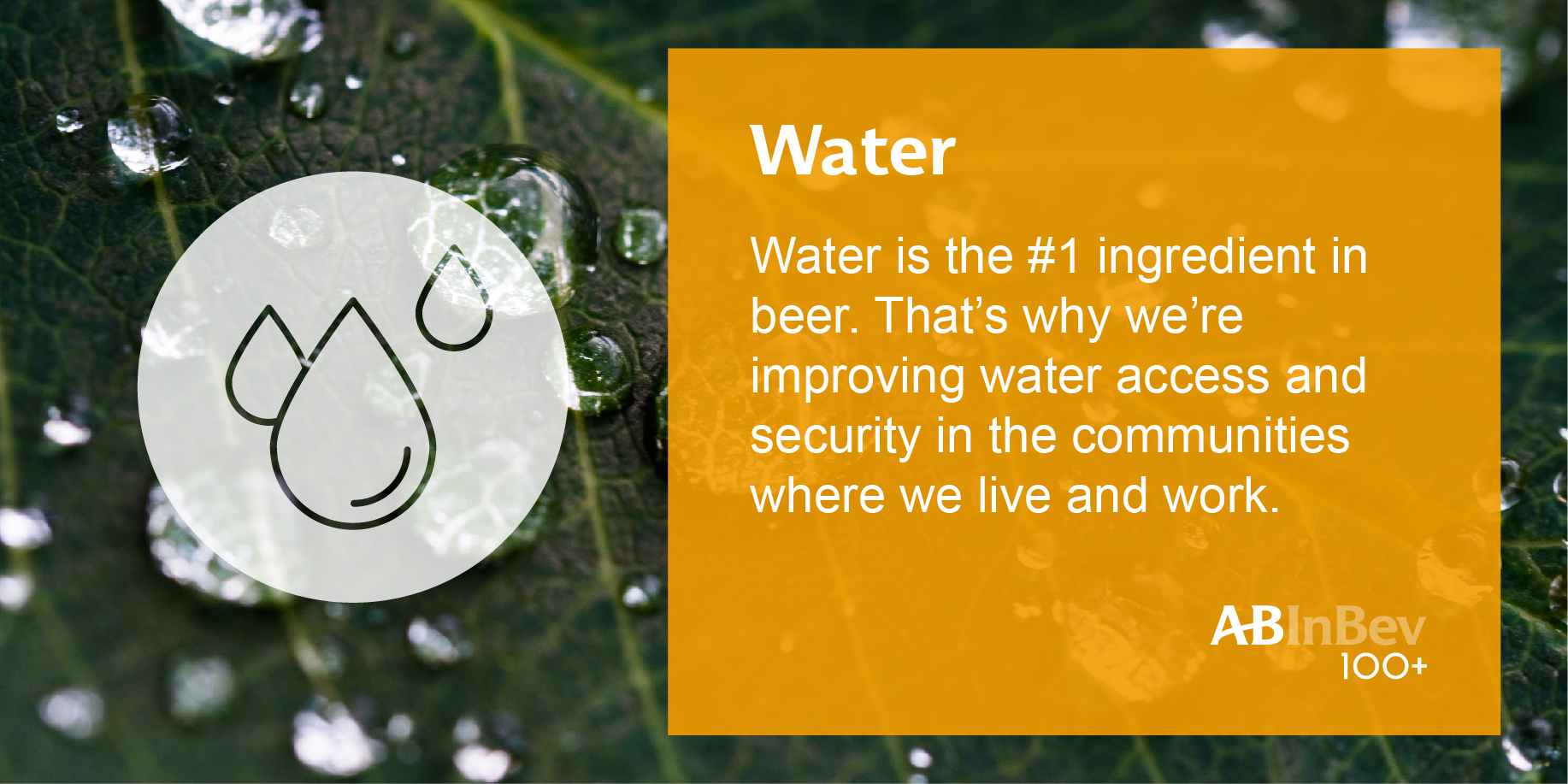 Our approach
More than just a key ingredient in our products, water is a critical resource for the health and well-being of every community around the world. Water resource challenges are magnified by climate pressures, inadequate infrastructure and poor governance. The growing scarcity of freshwater resources is not just a material issue for our company; it is a global risk to the economic, social and environmental well-being of our communities. As the world's leading brewer, we are committed to being a part of the solution to the growing water challenges across our communities and supply chain.
With water as a key component of our purpose to bring people together for a better world, we developed a comprehensive approach to water stewardship:
Within our operations,we drive water use efficiency, responsible discharge and effluent re-use;

Beyond the brewery gate, we invest in shared water security and watershed health through partnerships;

In local communities,we promote water access and disaster relief efforts;

Across our value chain,we promote water security through our brands, key brewing materials and engaging major suppliers;

As a company, contribute to the water broader landscape through innovation, policy engagement and thought leadership.

Internal efficiency
Within our breweries, we brew our beer aiming for the highest level of water efficiency and we continuously challenge ourselves to do even more. We leverage our internal data management system Voyager Plant Optimization (VPO) to monitor and manage our water use on a routine basis and cascade best practices across the business.
We are aiming for water use efficiency of 2.5 hl/hl across all our brewery sites and setting a more demanding ambition of 2.0 hl/hl for our breweries located in communities facing high risk for water stress, both by 2025.
Managing water risk
Incorporating publicly available water risk data from the World Resources Institute and The World Wide Fund for Nature (WWF) as well as internal data and expertise, we have developed a bespoke water risk assessment tool to review our operational risk on a quarterly basis. Using this tool, we have identified and continue to prioritize our sites that are located in high water stress areas. We know that our water challenges go beyond the walls of our breweries, which is why our Water Stewardship Goal applies to communities facing water stress across 16 countries, home to 36 of our facilities.
Measurably Improving Watershed Health
Water security is very complex, and there is no single solution. To address the challenges specific to the local context, we have developed and implemented a comprehensive seven-step watershed management process at sites located in water-stressed areas. The process focuses on convening stakeholders, identifying specific local water challenges and potential solutions, implementing agreed solutions with governance and financing mechanisms in place, communicating progress and measuring impact. We are taking a results-based approach and have established baselines for measurement and tracking techniques based on pilot initiatives in a number of our high-risk communities (learn more about watershed impact measurement approaches in our comprehensive guidedeveloped with The Nature Conservancy). We aim to lead a corporate shift toward measurability and accountability, ensuring that our local investments and programs translate into lasting impacts on water quality and availability for our communities and our operations around the world.
Brands with a purpose
We know the scale of the global water challenge is bigger than any individual organization. That is why we are looking outside our own operations by helping to provide access to clean water to people who need it. Since 2015, our Stella Artois brand has had a strong partnership with Water.org, a leading international nonprofit focused on ending the global water crisis. Since launching the partnership, we have sold more than 460,000 limited edition Stella Artois chalices and helped more than 1.5 million people gain access to clean water. You can read more about our partnership with Water.org here.
In Brazil, we launched AMA, a water brand whose sole purpose is to provide water access and improve life quality for those who do not have access to water in Brazil. 100% of profits go towards water access initiatives and we provide full transparency through our platform that discloses composition of profits, people impacted with the project, and verification by a third party.
Most recently in Colombia, we launched Zalva: a bottled water brand that aims to protect the high Andean wetland of Santurban, the vital ecosystem that provides water to more than 2 million people in Colombia. For every bottle sold, the company commits to protect one square meter of high Andean forest in the Santurban wetland buffer zone. The bottle is also the first 100% recycled PET bottle in the country. You can read more here.
Water in our supply chain
Across our supply chain, we work to promote water security through key brewing materials such as barley, rice, and hops, and by engaging major suppliers. Outcomes we're focused on when it comes to our agricultural supply chain include improved water quality and water balance, better water governance, and strengthened supply resilience. SmartBarley, led by our team of agronomists, is our flagship platform for engaging and supporting farmers on the ground and includes a number of water-focused components, including monitoring of water use on farms, data on irrigation, water source information, and best practice sharing with and between farmers.
We also work with farmers to improve water use efficiency through technologies such as low-elevation sprinkler application, drip irrigation, and precision and variable rate irrigation systems. These efforts can have benefits for both the watershed and the farmer, including improved crop yield and quality, optimized land use, and de-risking of crop investments. We're also looking beyond irrigation to other innovations that can create shared value and are exploring how to promote water security with our third-party suppliers as well.
Partnership and collective action
Given the scale and complexity of water challenges, we know we cannot do this work alone. Through our global partnerships with The Nature Conservancy (TNC) and WWF, we continue to invest financial and technical resources into green infrastructure initiatives, conservation and reforestation projects, habitat restoration efforts, and improved water infrastructure. Both TNC and WWF share our belief that measurable impact at scale is the next frontier in water stewardship.
The 2030 Water Resources Group is a public, private, civil society partnership hosted by the World Bank Group. The partnership supports country-level collaboration designed to unite diverse groups with a common interest in the sustainable management of water resources in markets such as Brazil, South Africa, India and Mexico. AB InBev works with several other global private sector partners and global public partners.
AB InBev is also founding member of the Water Resilience Coalition, based within the CEO Water Mandate and UN Global Compact. This industry-driven, CEO-led coalition aims to elevate global waters tress to the top of the corporate and agenda and preserve the world's freshwater resources through collective action. Other founding members include Cargill, Diageo, Dow, Ecolab, Gap Inc., Kurita, Microsoft, PVH and Starbucks.
As a longstanding member of the Beverage Industry Environmental Roundtable, AB InBev played an active role in facilitating the first global beverage industry-wide watershed coalition in Guadalajara in Mexico. This initiative aims to critical water quantity, quality and access challenges in the region. Among the key activities of the initiative are planting indigenous vegetation (to increase the levels of groundwater as well as reduce soil erosion) and improving water infrastructure. Other key partners include Bacardi, Beam Suntory, Brown-Forman, Diageo, Grupo Bimbo, Keurig Dr Pepper and Pernod Ricard.
Innovation and thought leadership
We also seek to identify and deploy new technologies and approaches to further drive water efficiency across our operations and address critical water challenges outside our operations, wherever possible. Through the Every Single Drop challenge in our 100+ Accelerator, we have identified, mentored, piloted and established contracts with promising startups focused on improving operational water efficiency and addressing the global water crisis. We are also working with partners to share our perspective on key water issues and contribute to the global conversation on water stewardship. For example, we with WWF and the Organisation for Economic Co-operation and Development to develop thought leadership insights on the value of water to people and the economy, including hydro-economic insights and pathways to watershed investment. These insights are framed in support of the United Nations Sustainable Development Goals.

Examples of our efforts

Improving water quality in Colorado

In the US, we are partnering with TNC on watershed improvement in Fort Collins, Colorado. In Colorado, the Cache La Poudre and Big Thompson forested watersheds provide critical clean water to Fort Collins. Climate change, increasing drought and years of fire suppression have put forested watersheds at risk for high-severity wildfires, the impacts of which degrade water quality. We are partnering with TNC as well as local NGOs, government agencies and the local utility to improve water quality in the Cache La Poudre and Big Thompson watersheds through proactive forest management. Implementation of forest management practices such as thinning and prescribed burning began in 2019, and impact measurement has begun. The impact indicators we are focused on for improving water quality are reduction in number and magnitude of forest fires, soil erosion, sedimentation and increasing miles of restored flows. 
Addressing water availability in India

Our Crown Beers and Charminar breweries are located in the Sangareddy district in the state of Telangana, India. The area has faced lower than average precipitation and recent droughts and regularly faces high rainfall variability and substantial runoff. Working with local stakeholders including International Crop Research Institute for the Semi-Arid Tropics (ICRISAT), Let's Endorse, the Ground Water Board and other local authorities, we are addressing these water availability challenges in 13 villages in the Sangareddy district by helping to build water storage structures including check dams, well water recharge infrastructure, rainwater harvesting structures and farm ponds and promote climate smart agriculture through water and soil conservation and management initiatives. Our aim is to increase water access to the community and increase aquifer recharge, helping to provide sufficient water for household use and irrigation, as well as enhance agriculture productivity and profitability. Since implementation of these interventions began in 2010, approximately 150,000 KL of cumulative recharge potential has been developed.
South Africa
Three years of reduced rainfall led to severe water restrictions and the threat of a "Day Zero" for water in Cape Town, South Africa. In response, our local team initiated a project with the City of Cape Town to install new pressure control valves to reduce water loss in the reticulation network, which resulted in savings of approximately 4.5 million liters of water per day. We also partnered with WWF to map the hydrology of the Table Mountain aquifer. Finally, our brewery went off-grid as a water service intermediary and, in agreement with the Western Cape Government, committed to bottling water instead of beer should a "Day Zero" scenario be declared. The success of the initiative has also led to our establishing City Water Partnerships with several other municipalities in South Africa.
The primary measurable impact indicators we'll be working towards in our continued work in the watershed are the improvement in water availability to the local community and reduced water abstraction by the city based on better pressure management and, in turn, reduced water losses. In addition, we are exploring with WWF the potential for the improvement of ground water abstraction and thus increased water availability.
Zambia
The city of Lusaka, Zambia, is reliant on a combination of ground and surface water for its drinking water supplies. Surface water in particular originates from the Lower Kafue landscape. Due to the shallow nature of Lusaka's groundwater sources, they are vulnerable to pollution from sewage and other contaminants. In addition, there are water quality challenges from common agricultural practices, as well as availability challenges. To address these challenges, we have partnered with WWF on a project in the Lower Kafue Sub-Basin with the aim of contributing to increased resilience of the water system by diversifying water supply options and anticipating the expected increased demands for clean water supply.