For more than 30 years, AB InBev beer brands have been part of the world's most watched sporting event, the FIFA World Cup™. A sponsor since 1985, Budweiser is the official beer of FIFA World Cup Qatar 2022 ™ which begins November 20. For the event, Budweiser launched its biggest campaign yet, with activations taking place in more than 70 markets and at 1.2 million pubs, restaurants and retail outlets worldwide.
As the world's leading brewer, the 29-day tournament offers AB InBev an unmatched moment to connect with consumers.
"We are passionate about football, and so are our consumers. We are proud to celebrate the sport, the players, and most importantly, the fans of the FIFA World Cup™," said Todd Allen, Global Vice President of Marketing, Budweiser. "We are acting on our purpose of creating a future with more cheers, by tapping into the power of our brands and serving up new ways to make a meaningful impact for our consumers and in our communities."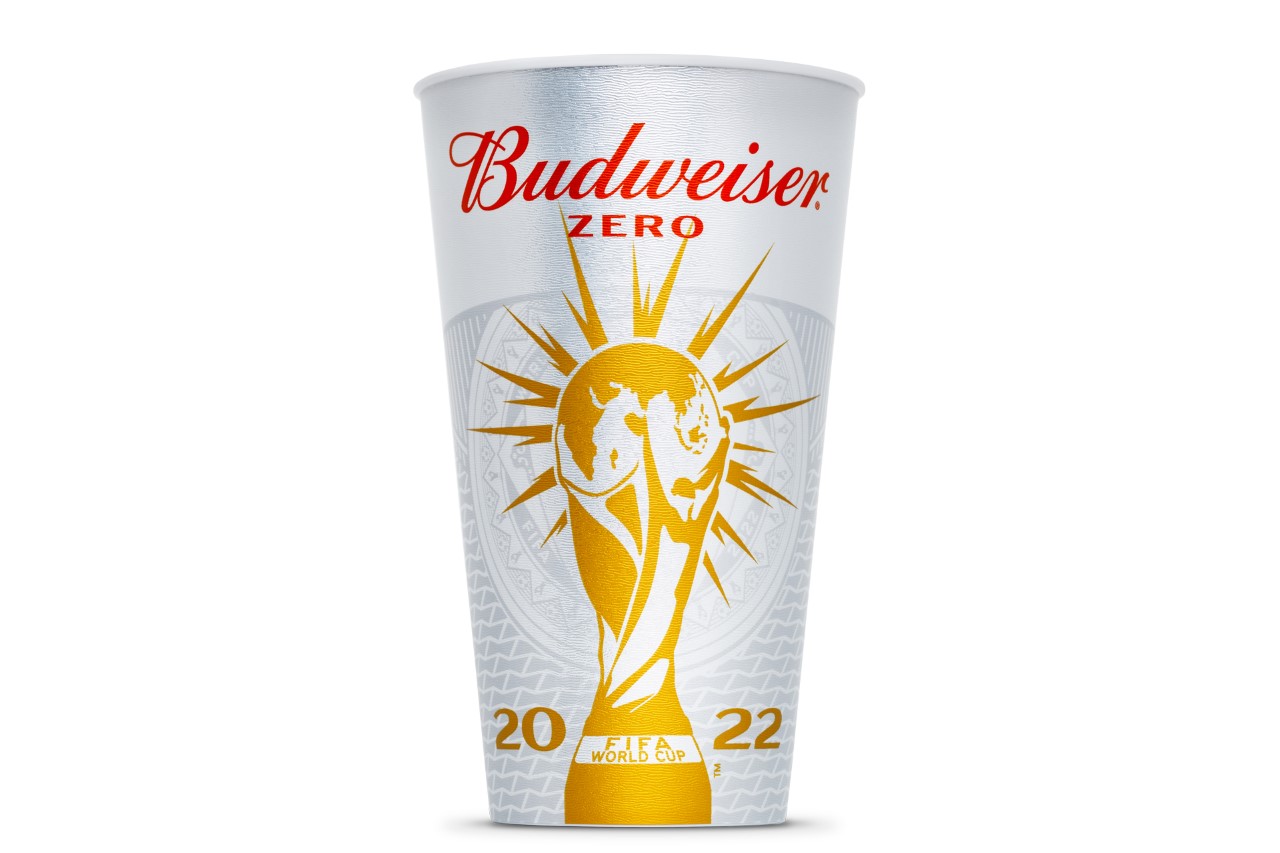 Did you know? All Budweiser and Budweiser Zero sold in Qatar will be brewed using 100% renewable electricity.
Respecting local customs while promoting Smart Drinking
Because this is the first time the tournament is being held in the Middle East and in a country that restricts public consumption of alcohol, AB InBev and Budweiser teams have been working closely with FIFA to ensure that local customs are respected while fans of legal drinking age enjoy their beers.
As the world's leading brewer, we want every experience with beer to be a positive one. A big part of that is our industry-leading efforts to provide consumers with more choices for moderation and promoting responsible consumption – what we call Smart Drinking.
Our largest Smart Drinking initiative is 'social norms' marketing, where we tap into the emotional connections people have with our brands to help influence positive behaviors and reduce harmful drinking. For the FIFA World Cup™, we are launching "Drink Wiser, Cheer Better", a marketing campaign that encourages fans to alternate regular beers with no-alcohol ones or water, eat before and while drinking, and plan for a safe ride home. No-alcohol Budweiser Zero will be on offer inside and outside all stadiums and related events.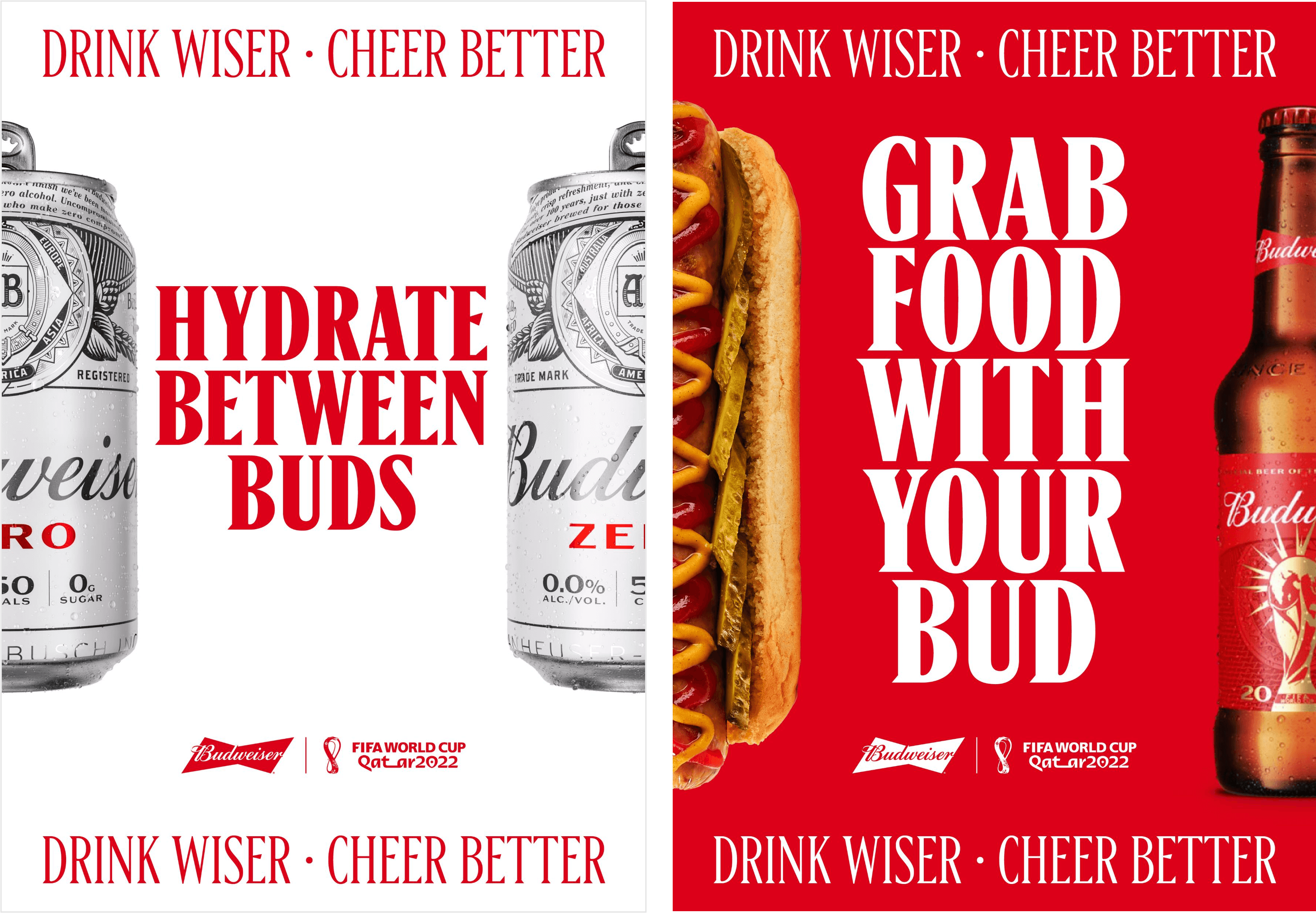 To promote Smart Drinking, "Drink Wiser, Cheer Better" messaging will be featured on Budweiser signage, packaging and marketing materials at FIFA World Cup Qatar 2022™
More than 5,000 servers, staff and hospitality management globally will undergo mandatory training and certification in Responsible Beverage Service (RBS) to help stop sales to minors, reduce binge drinking and prevent drunk driving. In cooperation with our stadium partners, "mystery shoppers" - independent, undercover individuals posing as customers - will regularly assess stadium staff to ensure compliance with RBS practices throughout the tournament.
"AB InBev is implementing the largest Smart Drinking activation in our history for the FIFA World Cup™," said Andres Peñate, Global Vice President of Corporate Affairs. "We're aiming to set a new standard for responsible beverage sales and service at world-class sports events."
Budweiser rallying fans with "The World is Yours to Take"
This year's Budweiser campaign aims to capture the global energy of football fans everywhere and encourage people to go for greatness. "The World is Yours to Take" campaign, in partnership with football icons Lionel Messi, Neymar Jr., and Raheem Sterling, will reach more people than any other in the brand's 146-year history.
Budweiser has also partnered with Grammy award-winning artist Lil Baby on an all-new single, "The World is Yours to Take" to be featured on the Official FIFA World Cup Qatar 2022™ soundtrack. Inspired by Budweiser's campaign, the song is poised to be the global anthem of the tournament.
The campaign is designed to create a fully integrated experience for fans - from limited-edition, specially designed Budweiser cans and bottles with scannable QR codes to win prizes including match tickets, and Budweiser-hosted watch parties around the world, to on-site experiences and the Budweiser Live Scoreboard NFT program that commemorates the big event via unique collectibles.
To build excitement for the big event, fans can scan QR codes on limited edition Budweiser bottles for the chance to win signed memorabilia, a year's supply of Budweiser and tickets to the tournament.
We're also engaging with thousands of retailers through BEES, our B2B digital platform that enables owners to place orders, earn rewards and gain insights into their businesses. In the platform's biggest campaign yet, retailers are being "challenged" by Lionel Messi to order Budweiser for a chance to win tournament tickets and other prizes, such as a World Cup-themed event at their store.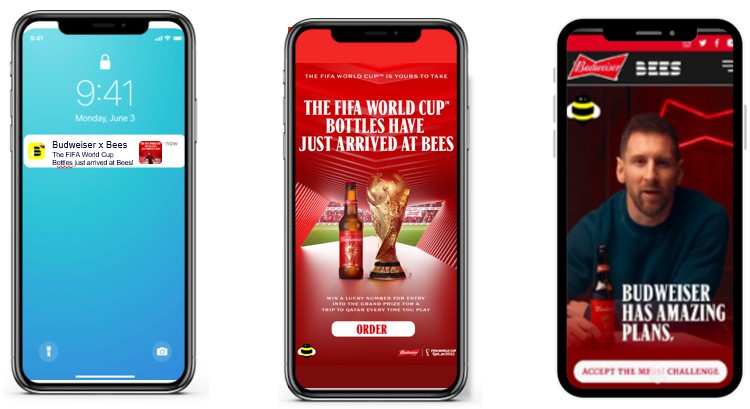 Retail owners were invited to take the "Messi Challenge" for the chance to win tournament tickets and other prizes when they order Budweiser through the BEES platform
In the hour before kickoff on November 20, Budweiser will tap the global scale of our delivery platforms, Zé Delivery and TaDa, for our biggest direct-to-consumer campaign ever, offering a series of special promotions that will bring cold beer direct to fans of legal drinking age (in select markets where available).
The ultimate viewing experience
Budweiser, along with our brands Corona and Brahma, will bring fans together for the ultimate viewing experience at International FIFA Fan Festivals™ in London, Mexico City, Rio de Janeiro, São Paulo, Seoul, and Dubai. Budweiser is the first commercial affiliate in tournament history to host International FIFA Fan Festivals™.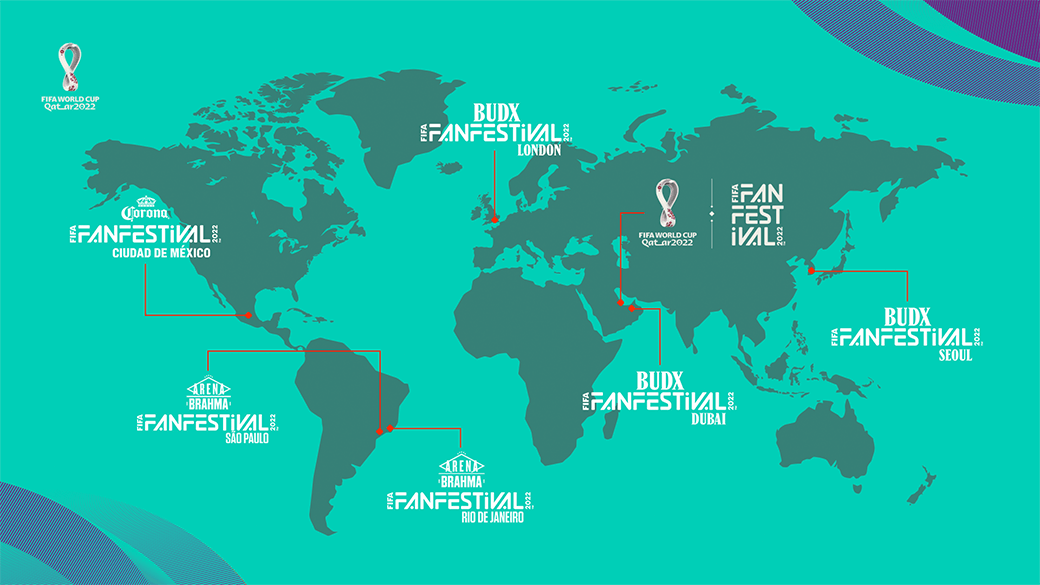 Budweiser, Corona and Brahma are hosting FIFA Fan Festivals™ in six cities worldwide
These satellite events will complement the main FIFA Fan Festival™ in Doha's Al Bidda Park , a newly reimagined experience that will create a go-to destination for all fans on-site in Qatar, offering an electric experience of football, music, food and culture. Budweiser, Corona and Brahma, as well as non-alcoholic beverages including Budweiser Zero, will be featured at the festivals.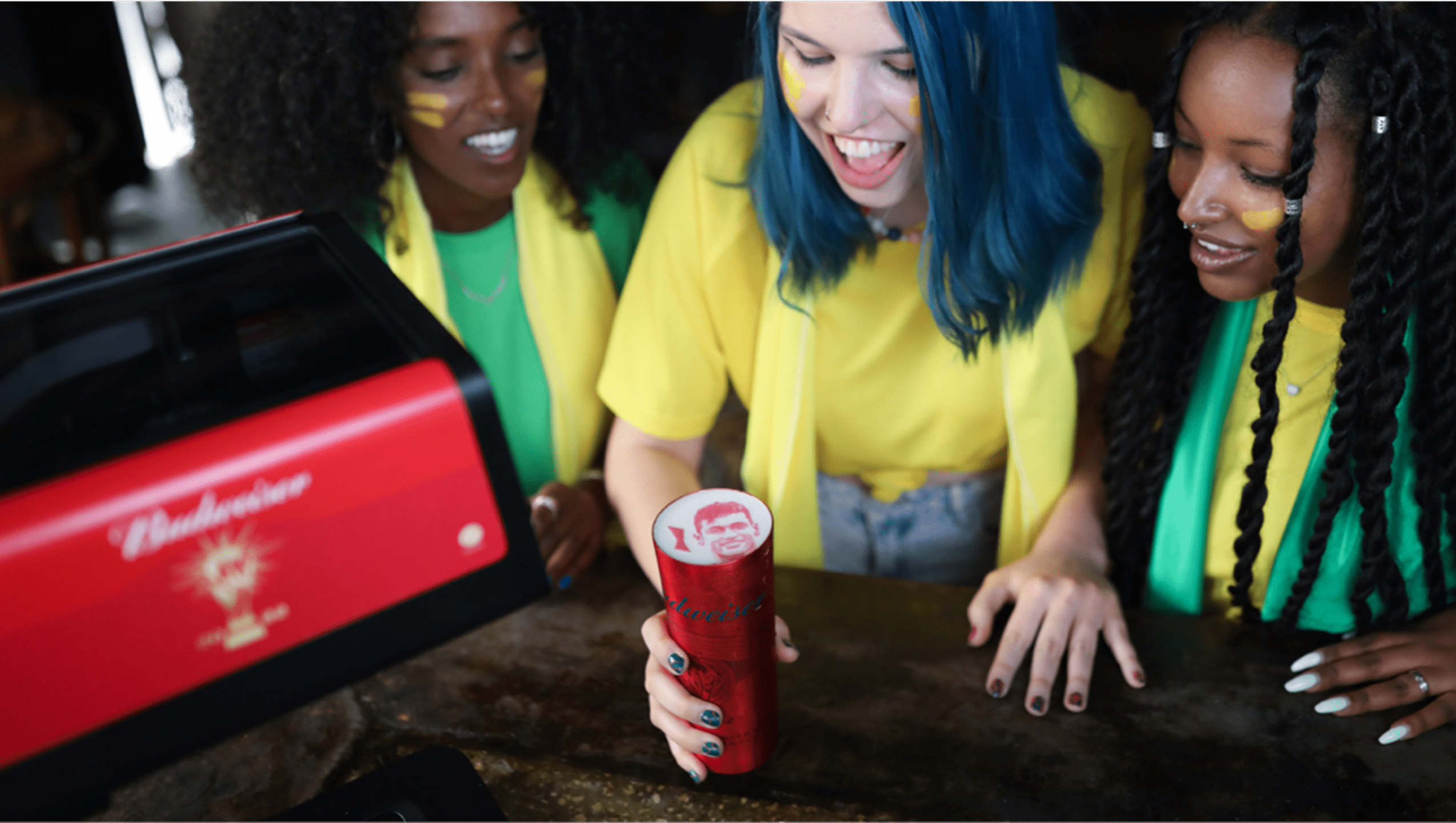 Attendees at select FIFA Fan Festivals™ will be able to put logos, game scores, player images and personalized messages on their Budweiser using a custom foam printing system
The Bud Hotel will serve as Budweiser's home base in Doha, Qatar. The W Hotel Doha is being transformed into a fully immersive celebration of Bud, football and its fans, offering match screenings, gaming areas, exclusive merchandise and much more. For late-night entertainment, there's the Budweiser World Club, where fans can revel in their shared passion for music, with headlining performers including Lil Baby, Jason Derulo, Craig David and Peggy Gou.
Uniting fans with our local brands
More than a dozen of our local beer brands around the world, including Cass, Carling Black Label, Pilsen, Quilmes and others are also celebrating the 2022 tournament. In Belgium, our beloved local brand, Jupiler, is uniting supporters of the national team with its "BELIEVE" campaign. Activations range from transforming local pubs into football havens, to commemorative gear and packaging, including 150 million bottles and cans of Jupiler and Jupiler 0.0% branded with "BELIEVE".
The campaign from Brazil's national favorite, Brahma, is emphasizing how football offers hope at a time of national division.
"The best of Brazil is our people," said Maurício de Meirelles Landi, Marketing Director for Ambev, maker of Brahma. "Through the FIFA World Cup™, we are united by 'Brasilidade' - our shared passion and support for our national team."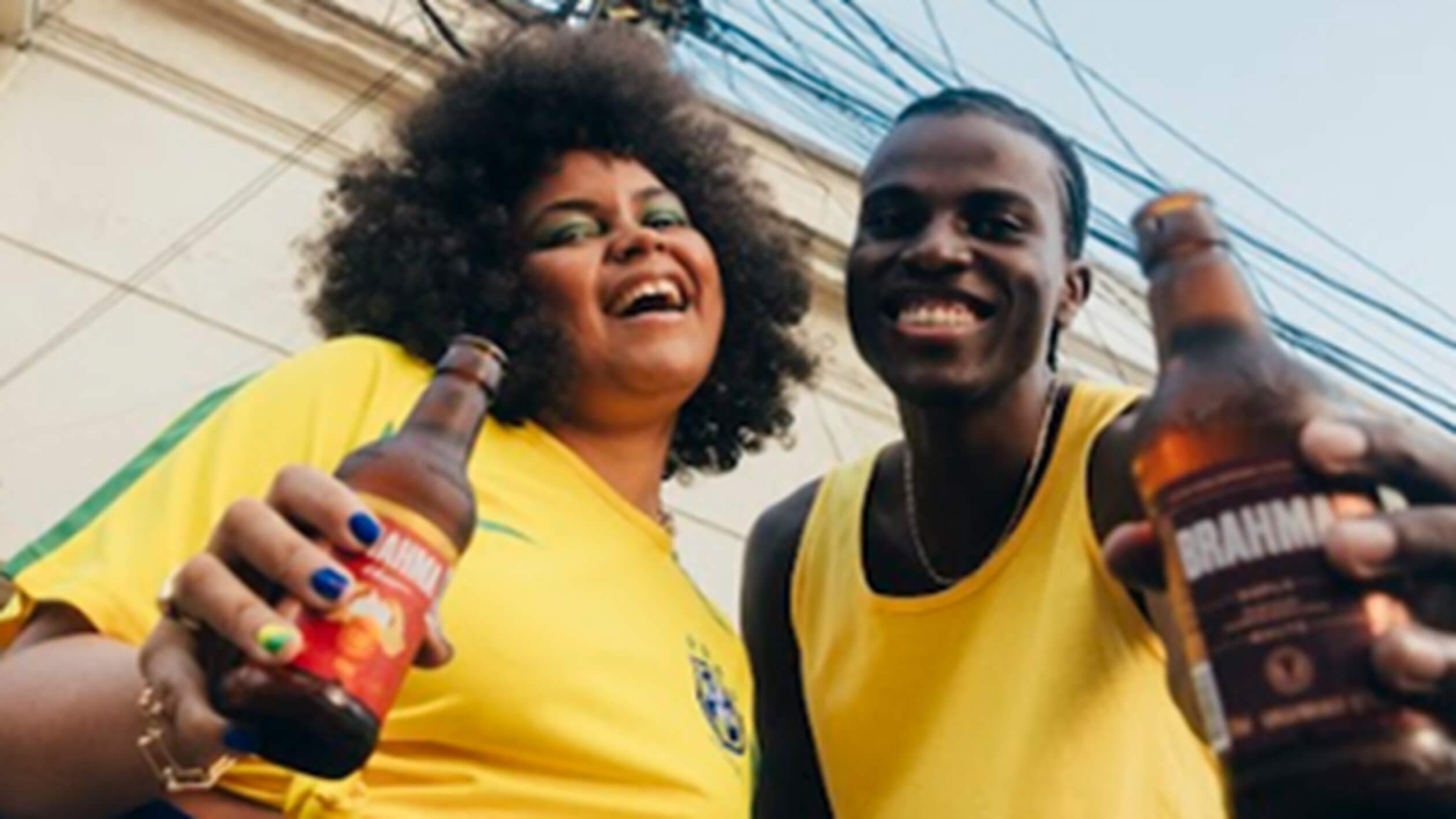 Consumers who purchase Brahma products online through Zé Delivery have the chance to win FIFA World Cup™ prize packages
In the lead up to the tournament, Brahma is inviting fans and commissioning artists to paint unity-themed murals on streets across the nation that show how Brazilians love the tournament. The beer's packaging will sport the colors of the nation's flag and a social media campaign will invite football fans from nations not competing in the tournament to join in supporting the Brazilian team. Thousands are also expected to gather at Brahma's International FIFA Fan Festivals™ in Rio de Janeiro and São Paulo.
"We are excited to celebrate our uniquely Brazilian pride, or what we're calling, 'Brahmosidade,'" added Mauricio, "Through the power of football we are all stronger together."
For more on AB InBev, Budweiser and our local brands celebrating the FIFA World Cup™, follow us on LinkedIn,  Twitter,  Facebook, and  Instagram.